Events of the month
Workshop on Emergency Planning held for City Palace Museum Staff
As part of the training programme on conservation practice guidelines, a workshop on emergency procedures was held on the 19th June for City Palace Museum guides, attendants and other staff members. Mr. Rohit Jigyasu, Consultant of Risk Management explained to his audience that as they would be ' first in the line of fire' they must be fully aware of procedures and how to deal with an emergency situation.
The lecture was followed by an on site visit to the Dilkushal Mahal and Badi Chitrashali where emergency fire exit doors have now been marked and they were given instructions on what to do in the case of an emergency and how to guide people to the fire exits. They were also given a demonstration of the equipment that they might have to use and drilled on how to salvage artifacts if damage were to occur.
All those attending the Workshop expressed their appreciation to the management of The Maharana of Mewar Charitable foundation for giving them the opportunity to attend the Workshop.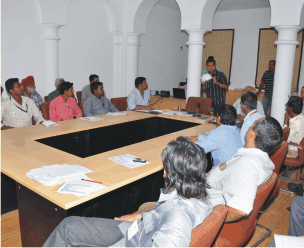 Mr. Rohit Jigyasu taking the workshop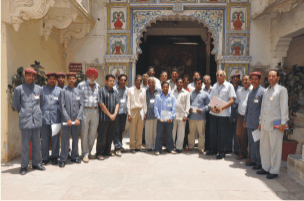 Mr. Bhupendra Singh Auwa, Mr. Rohit Jigyasu
and the Museum Staff

Unveiling Ceremony of the statue of Maharana Pratap at Pratap Prangan, Maharana Pratap Airport, Dabok, Udaipur
Seven years ago Udaipur's Dabok airport was renamed The Maharana Pratap Airport. Now, barely two years after the new international terminal was constructed, an imposing statue of the legendry warrior Maharana Pratap was unveiled by Honourable President of India, H. E. Smt Pratibha Devisingh Patil. This significant event was attended by the Honourable Governor of Rajasthan H.E. Shri S K Singh ; Honourable Chief Minister of Rajasthan Shri Ashok Gehlot ;Honourable Union Minister of Rural Development and Minister of Panchayati Raj Dr C P Joshi ; Hon'ble Minister of Energy, Non Conventional Energy Resources, Information Technology, Disaster Management (Addl. Charge), Higher Education (Addl. Charge) Dr. Jitendra Singh ; Minister for Rural Development & Panchayati Raj Government of Rajasthan Kunwar Sahib Bharat Singhji of Kundanpur ; Member of Parliament, Chittorgarh Dr. Girija Vyas; Member of Parliament, Udaipur Shri Raghuveer Singh Meena and Chairman, Airports Authority of India Mr. V P Agarwal, and a host of local and central dignitaries.
Shriji Arvind Singh Mewar of Udaipur, Chairman and Managing Trustee, Maharana of Mewar Charitable Foundation, Udaipur was accompanied by his family Smt. Vijayaraj Kumari Mewar of Udaipur, Ms. Bhargavi Kumari Mewar of Udaipur, Mr. Lokendra Singh Rathore of Kotri, Ms. Padmaja Kumari Mewar of Udaipur and Mr. Lakshyaraj Singh Mewar of Udaipur. After the unveiling ceremony Shriji said "I am grateful for this wonderful show of solidarity and the presence of so many dignitaries to honour the memory of Rana Pratap," Commissioned by the Maharana of Mewar Charitable Foundation, Udaipur and HRH Group of Hotels, Udaipur and sculpted by Shri Fakir Charan Parida, Haridwar, Shriji has overseen every detail of the composition of the statue from the size and shape of Chetak's ears to the battle attire of Rana Pratap. The 15 foot high gunmetal replica is probably the biggest statute of Maharana Pratap in the country today.
The installation of a statue of Maharana Pratap at the Pratap Prangan, Maharana Pratap Airport, Dabok, Udaipur, is seen as a fitting tribute to the spirit of Mewar and its valour. The location of the statue makes it a central focus of attention from the moment of arrival at the airport, and is also visible for departing passengers.
Pratap Prangan has been developed in an area of 150 ft x 132 ft, at the corner of the entrance and the exit road. The magnificent sculpture commands the entire open space in front of the terminal. The design concept reflects the symbolic character of Eternal Mewar. As part of the overall plan there is a green cultivated area at each corner symbolizing the wealth of greenery of Mewar; bands of stone chips form a layered formation representing its mineral wealth, and the pedestal of brilliant white marble from the region, represents the 'Prakash' (brilliant white light) of the dynasty which has worshipped the Sun for centuries.
This unique statue of Maharana Pratap, a hero of freedom and self-respect depicts the undefeated eternal values of Mewar. Shriji Arvind Singh Mewar of Udaipur hopes that the statue will take pride of place in the heart of every Indian visiting Udaipur.

For president's speech and photographs please visit
www.presidentofindia.nic.in

For more photographs of the event please access the following URL with the given user name and password
URL: http://www.eternalmewar.in/emgallery/pratap2009
User: Guest
Password: pratap30062009