International Workshop on Integrating Heritage Resources in Master Plan of Udaipur
The International Workshop on 'Integrating Heritage Resources in the Master Plan of Udaipur' was held from the 19th to the 23rd March 2012 at Udaipur Rajasthan India. The Workshop was jointly organized by Udaipur Municipal Council (UMC) / Government of Rajasthan; City of Strasbourg; Indian Heritage Cities Network - Foundation in association with Resource Organisations Maharana of Mewar Charitable Foundation, Udaipur; INTACH Udaipur Chapter; Dronah, Gurgaon. The workshop is part of the Joint Co-operation Programme signed between the Udaipur Municipal Council, Udaipur; the City of Strasbourg; Indian Heritage Cities Network - Foundation and Maharana of Mewar Charitable Foundation, Udaipur.
The goal of the workshop was to introduce urban planners from Udaipur and Rajasthan to heritage-sensitive urban planning.
The objectives of the workshop were to:
- Prepare terms of reference for a limited number of heritage projects in Udaipur
- Issue recommendations to integrate heritage resources into the master plan
- Provide urban planners from Udaipur and Rajasthan with knowledge of heritage-based planning, through the capacity-building work of French experts
- To gain an understanding of heritage planning, conservation, and management by sharing some of best practices implemented in the French City of Strasbourg
- Establish a zonal plan of a specific ward in Udaipur through a careful listing and consideration of its heritage
On the 19th March 2012 an Inaugural Session was held at RCA Auditorium followed by presentations on the objectives of the Workshop with an introduction to the programme on Heritage and Urban Planning in Strasbourg; The Mysore Urban Conservation Plan; Natural Heritage Resources in Udaipur; Presentation of the Udaipur Master Plan.
There were also discussions on existing policies and the challenges faced on urban heritage in Udaipur, eco-mobility and sustainability. Various presentations were made and site visits were held to understand the Master Plan of Udaipur. This included mapping out some of the major developments in the Master Plan and their impact on heritage.
At the concluding session on the 23rd March 2012 there was a general review of the workshop and discussions on future planning.

A detailed heritage map is to be prepared to show places of interest and heritage value including monuments, buildings, specific landmarks and public spaces. The map will include photographs and detailed information on historical aspects. Heritage walks will be clearly marked indicating the ease and practicality of access to the route. Analysis of the territorial structure of Udaipur and its natural network is being studied to enable a sustainable urban strategy to be developed. This will include working with public and private partnerships to develop a sustainable urban area on the river front and include specific pedestrian areas.
The next workshop is planned for Sept-Oct 2012 on design eco-mobility and heritage in Udaipur; the transformation of public spaces; Strategic access to the walled town and the development of footpaths around the lakes. The workshop was attended by Ms. Geraldine Mastelli, Architect and Urban Planner - Urbanism and development, Strasbourg, France; Mr. Francois Nowakowski, Architect and Urban Planner, Strasbourg, France; Ms. Alice Delzant, Project Officer, Ville et Communauté Urbaine de Strasbourg, Strasbourg, France; Dr. Shikha Jain, Director, Dronah, Gurgaon; Mr. Akash Hingorani, Consultant, IHCN–F, New Delhi; Mr. V Govindankutty, CEO, IHCN–F, Mysore; Mr. Gabriel Odin, Consultant, Dronah, Gurgaon; UMC; UIT; INTACH; MMCF representatives.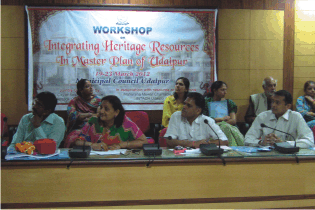 International Workshop on
Integrating Heritage Resources of the Master Plan of Udaipur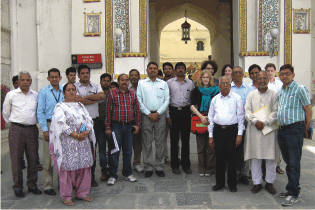 Delegation attending the International Workshop
on Integrating Heritage Resources in
Master Plan of Udaipur