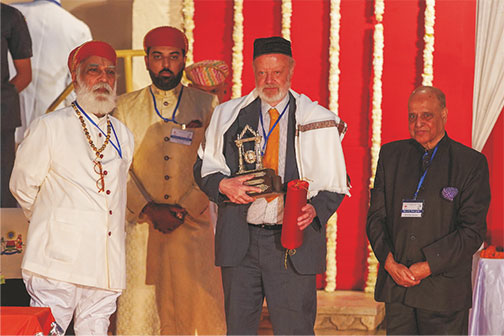 Col James Tod Award to Dr. Paul T. Craddock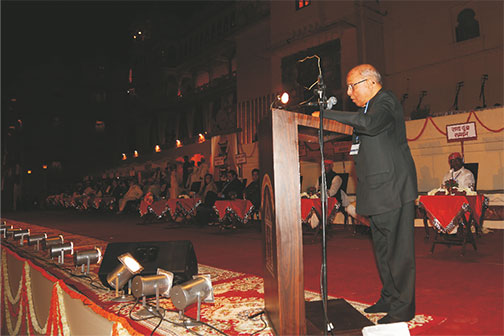 Dr. K. Kasturirangan addressing the guests and awardees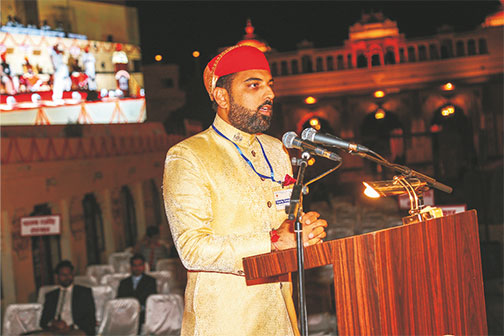 Vote of Thanks by Mr. Lakshyaraj Singh Mewar
For complete coverage on 37th Maharana Mewar Foundation Annual Awards 2019 visit

http://www.eternalmewar.in/media/newsletter/templa tes/2019/nl212/mmfaa2019/index.htm
Academic Initiatives
Visit of Students from North East
A group of 275 students from North East India visited the City Palace, Udaipur on 16th March 2019. The group was in Udaipur as per the cultural exchange programme organised by Ministry of Youth Affairs and Sports of Government of India in support with Nehru Yuva Kendra Sangathan (NYKS). Maharana of Mewar Charitable supported their visit to the City Palace.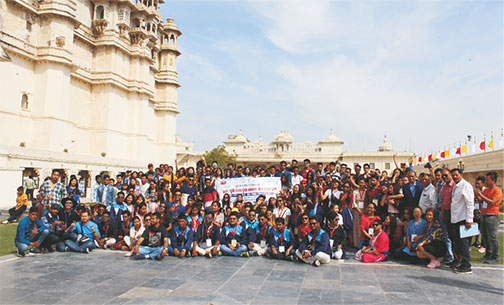 Students from North East on their visit to The City Palace, Udaipur
Development in Maharana Mewar Special Library
Maharana Mewar Special Library (MMSL) is a world-class special library. By the end of this month MMSL has a collection of more than 34845 books of different varieties. Library has special collection of books on Literature, Religion, History, Arts, Zoology, Sports and General Geography about different part of India and globe and rare collection of books on Mewar dynasty.
56 new books were received in this month and all the books were processed in Accession Register. Classification done by Dewey decimal classification 19th Rev. Edition, Cataloguing (AACR II) and Bibliography; details uploaded in Library housekeeping software. Libsys and Eternal Mewar web site http://eternalmewar.in/mmsl. Stamping, tagging and scanning was also performed all these books.