Philanthropy
'Charity' has been at the root of the system of custodianship at Mewar wich remains the guiding essence of the Foundation. It means contribution which is explained in great detail in our ancient scriptures and is unconditional in nature. It is given to the deserving and those in need, from legitimately earned wealth, with no regrets and with no intention of achieving fame or expecting favours in return. This is evident from the Toran Dwar being chosen as its symbol - an elegant edifice created to mark remarkable instances of charitable giving in the past. Today, charity is one of the Foundation's biggest outgoing expense which is direct giving through its donations to causes, support to scholarships, endowments, pension schemes, sports, encouraging traditional form of knowledge, medical initiatives, educational institutes, arts, promotion of women's rights, cultural institutes and many more. Donations are made without discrimination or favour but on the basis of the cause and serve as a 'temple of inspiration' for future generations and further continues the model of sustainability that is 'Eternal Mewar'.
Financial Assistance
Maharana of Mewar Charitable Foundation has provided financial help to Mr. Rishi Raj Rathore, resident of Udaipur, Rajasthan to represent India in World Junior Para Athletics Championship 2019 in Tunisia.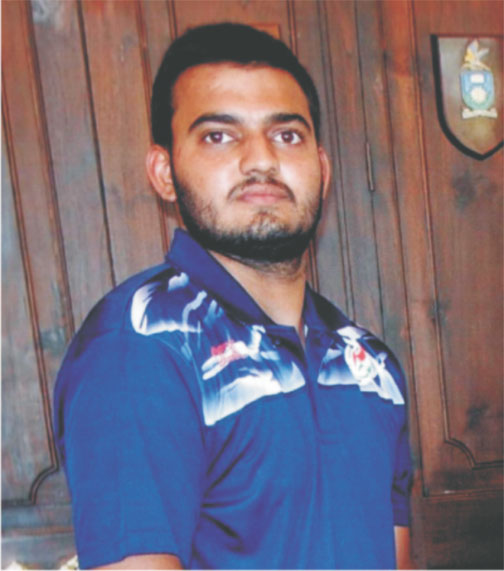 Mr. Rishi Raj Rathore


Mr. Mohammed Sharif

Maharana of Mewar Charitable Foundation has also provided financial assistance to Mr. Mohammed Sharif, resident of Udaipur, Rajasthan to perform the holy pilgrimage of Hajj in 2019.
Charitable Dispensary and Medical Aid
Maharana of Mewar Charitable Foundation runs a charitable dispensary, which operates all year round. It
aims to provide free medical advice and medicines to the needy that are unable to pay for medical treatment. Treatments can range from assistance to the aged to monetary reimbursement to social workers who distribute medicines to needy and disabled people in villages. More than 12,000 patients benefit each year from the dispensary which is manned by a team of medical professionals. The Staff's yearly medical check-up is also organised by the Foundation.
A total number of 839 patients were treated in the month of July 2019.
Supporting Saksham Project of Yuva Pahal, Pali, Rajasthan
Project Saksham is being supported by Maharana of Mewar Charitable Foundation, Udaipur and EASACT, New Delhi. Presently an approximate of 60 students is under training of garment making at their two centres of Rohat and Bandai village. In past two years around 216 girls and women have been trained under project Saksham. Out of which 50% candidates are engaged in self and wage employment. This is great achievement due to support provided by our respected donors. Maharana of Mewar Charitable Foundation has provided financial assistance to support the project titled Saksham for the skill training program for girls at Rohat, Pali, Rajasthan for the year 2019-20. Yuva Pahal is an emerging NGO of Rajasthan engaged in the social development and women empowerment through integrated family welfare and livelihood projects. Yuva Pahal believes that Building livelihoods through microenterprises for Girls and Women is one of the remarkable steps for developing sustainability, improving household income and creating jobs where these are actually required. The objective is to empower every Girl and woman through skill and education so that she can support her family. Empowering means make them capable in every aspect hence we call it - Being Saksham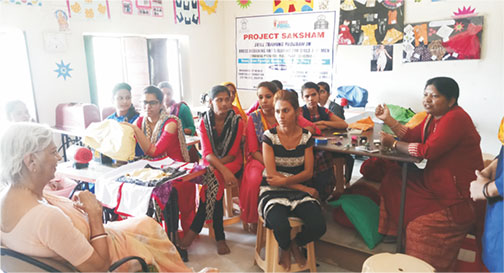 Beneficiaries undergoing training at the Saksham Project