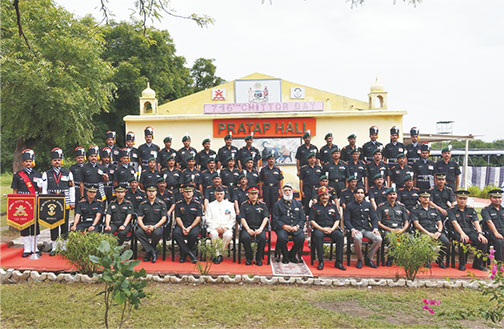 Shriji and All Ranks of 9 Grenadiers
Charitable Dispensary and Medical Aid
Medical Aid is an important activity of the MMCF. Citizens of the region can apply to it for medical benefits and assistance. The Staff's yearly medical checkups are also organized by the Foundation. MMCF runs a charitable dispensary, which operates all year round. It aims to provide free medical advice and medicines to the needy that are unable to pay for medical treatment.
A total number of 816 patients were treated in the month of August 2019.
Supporting Saksham Project of Yuva Pahal, Pali, Rajasthan
The objective of this organisation is to empower every Girl and woman through skill and education so that she can support her family. Empowering means make them capable in every aspect hence we call it - Being Saksham. In last two years, the project Saksham has trained more than 200 women out of which 30 Women have been engaged in self and wage employment. Another 20 Trained females are ready to work in garment manufacturing unit in collaboration with FAB India. So this year will be for the training of new aspirants and sustainability of old trainees.
Maharana of Mewar Charitable Foundation has provided financial assistance to support the project titled Project Saksham for the skill training program for girls at Rohat, Pali, Rajasthan for the year 2018-19. Yuva Pahal is an emerging NGO of Rajasthan engaged in the social development and women empowerment through integrated family welfare and livelihood projects. Yuva Pahal believes that Building livelihoods through microenterprises for Girls and Women is one of the remarkable steps for developing sustainability,improving
household income and creating jobs where these are actually required.
The Project Saksham motivates them to go further and do more innovative programs hence the MMCF has continued its support for the financial year 2019-20. The project is mobilizing the female candidates from nearby villages of Rohat i.e. Singari, Bithu, Luni, Chotila, Sawalda Kalan, Bandai, Doodhli and Khandi etc. One new centre in Chotila village and one mobile Sewing centre are being started to benefit the maximum aspirants.
The main aims and objectives of this project are to conduct livelihood training for unemployed youth and women of the society, which can help them, live their life with self-respect and dignity. Saksham also takes care of the health and education program for women and children and also to develop and strengthen the community based organization for overall community development in every way possible. The Project Saksham is empowering the women of the Society; Saksham means to make someone socially and financially capable and independent of leading a life ahead. The primary purpose of the program is to enable the students to focus on a particular set of working skills which should lead to a vocation or employment.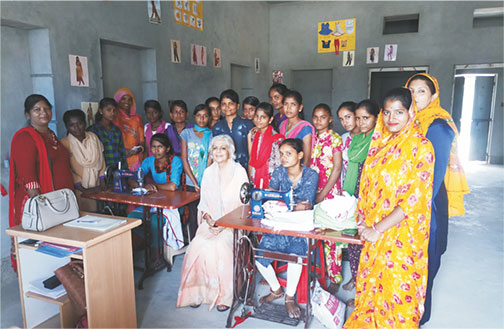 Beneficiary at Saksham Centre
Supporting the 'Widow Care Project' at Udaipur, Rajasthan
Maharana of Mewar Charitable Foundation is providing financial assistance to support the 'Widow Care Project' at Udaipur, Rajasthan for the year 2018-19. This project is running since 2012 under the aegis of Swami Vivekanand Sewa Nyas, Udaipur. The trust is inspired by the teachings of Swami Vivekanand: 'Daridra Devo Bhava' (To serve the poor is to serve god). Since 2004, SVSN has aimed to serve the underprivileged by economic empowerment of the rural population through innovative