Philanthropy
Scholarships and Grants
The Maharana of Mewar Charitable Foundation has donated among many charitable institutions in India for the benefit of the common people. The hospitals, the educational institutions and numerous scholarships for the poor but meritorious students are their generous contributions towards the countrymen.
Philanthropy means the love of humanity. A conventional modern definition is "private initiatives, for the public good, focusing on quality of life", which combines an original humanistic tradition with a social scientific aspect developed in the 20th century. The purpose of philanthropy is to improve the wellbeing of humankind by preventing and solving social problems.
Scholarships are awarded to students at every level of education, from primary school to postgraduate research scholars. In many cases, had it not been for the intervention of the trust, the individual students' academic career would have come to a halt. Both men and women applicants are treated fairly and without bias.
The numbers can range from a single scholarship granted to one student to cover their entire course of graduate studies or, to a number of students to help subsidies school/college fees. The trust has also sponsored and subsidized the presentation of research papers at symposia both in India, and across the globe.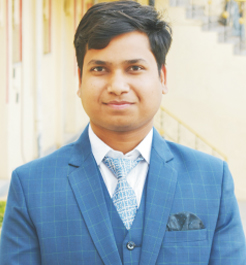 Mr. Ankit Jain

Maharana of Mewar Charitable Foundation has provided scholarship to Mr. Ankit Jain of Udaipur, Rajasthan pursuing his final year of B.Tech Agriculture, for attending the Global Youth Summit 2020 at Melbourne, Australia organised from 16th - 21st January 2020.
Continuing the Kindness and Generosity Maharana of Mewar Charitable Foundation has provided donation to Shree Surya Sadhna Mandir at Sector 7, Udaipur to celebrate Surya Saptami Festival on 01st February 2020.