Academic Initiatives
Visit of Dr. Pika Ghosh
Dr. Pika Ghosh, Associate Professor, Department of Religion and South Asian Art, Haverford College, Philadelphia, USA, visited Udaipur from 6th - 13th January 2020. Her visit was research oriented; with her focus being on silver, in the contexts of religion and ritual in Mewar and particularly in the life of the Maharanas of Mewar. For this she made visits to Shree Eklingnath ji Temple, Kailashpuri, Mahasatiya ji Ahar Cenotaphs, and the Ban Nath ji Temple and Sagas ji Temple within the Palace premises. This was followed by long discussions with priests, of the mentioned places, to understand the utility of the silverwares and other artefacts in use. Her findings from this research are to feature in the proposed catalogue on the silver collection of The City Palace Museum, Udaipur.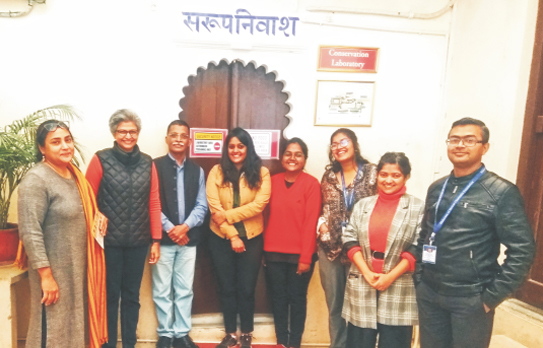 Dr. Pika Ghosh, Ms. Saloni Ghuwalewala, Mr. S. Girikumar, Ms. Anuja Mukherjee, Ms. Bhasha Shah, Ms. Chelsea Santos, Ms. P. M. Vasundhara and Dr. Hansmukh Seth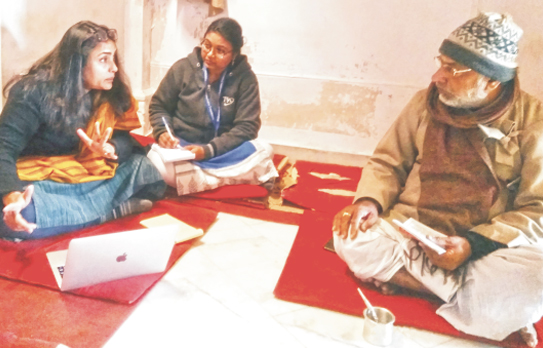 Dr. Ghosh and Ms. Priyanka Seth, in conversation with a priest at Ban Nath ji Temple

Visit of Dr. Debra Diamond and Dr. Dipti Khera
Dr. Debra Diamond, Curator of South and Southeast Asian Art, Freer | Sackler Gallery, the Smithsonian's Museum of Asian Art, Washington D.C., and Dr. Dipti Khera, Assistant Professor, Department of Art History and Institute of Fine Arts, New York University, visited Udaipur from 16th to 24th January 2020. Their visit to The City Palace Museum, Udaipur, was primarily aimed at seeing the progress made in the conservation of the selected Mewar paintings, which will be part of the forthcoming exhibition at the Freer | Sackler. They also dedicated themselves towards research for the proposed catalogue of the same exhibition. For this, all of the selected paintings were observed in minute detail, in the conservation laboratory, and discussions with the Conservators were followed suit. The Curatorial team provided assistance in transliteration and transcription of the Mewari inscriptions written at the back of these paintings. Additionally, they also toured a few sites around the city to understand the locations and landscapes depicted in the paintings.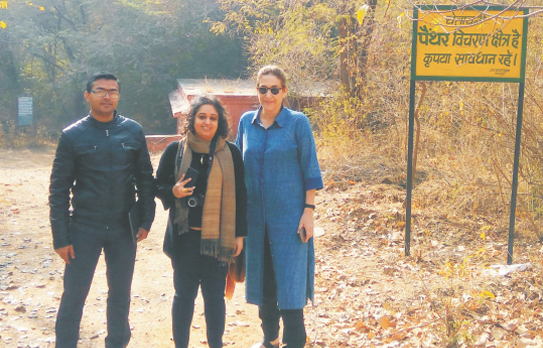 Dr. Debra Diamond, Dr. Dipti Khera and Dr. Hansmukh Seth during a site visit