Philanthropy
Scholarships and Grants
Maharana of Mewar Charitable Foundation (MMCF), Udaipur was instituted to serve and assist each and every individual to realize a special status in the hierarchy of God's creation and the commitment in 'pursuit of excellence'. Today, one of the Foundation's biggest outgoing expenses is charity being done through its direct donations to causes, such as, support to scholarships, endowments, pension schemes and medical‑aid, thus fulfilling directly many of the objectives. In keeping the objective of the organization to promote and encourage excellence in various walks of life and to help the needy without discrimination or favour but on the basis of the cause; scholarships are awarded to students at every level of education, from primary school to postgraduate research scholars. In many cases, had it not been for the intervention of the trust, the individual students' academic career would have come to a halt. Both men and women applicants are treated fairly and without bias. The numbers can range from a single scholarship granted to one student to cover their entire course of graduate studies or, to a number of students to help subsidies school/ college fees. The trust has also sponsored and subsidized the presentation of research papers at symposia both in India, and across the globe.
Contributing kindness and welfare towards the society the Maharana of Mewar Charitable Foundation has donated funds to Protsahan India Foundation for empowering girls with education, healthcare and justice through a backbone of creativity and healing.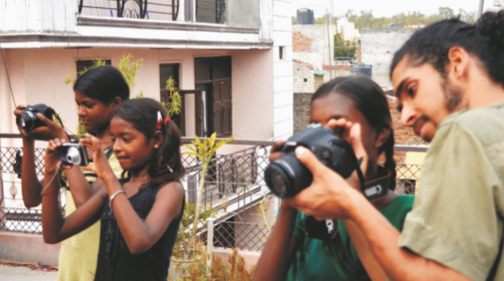 Empowering girls with some photography techniques

Financial Assistance
Maharana of Mewar Charitable Foundation supported Mohanlal Sukhadiya University, Udaipur for a National Seminar on 'Food Heritage of Rajasthan: Special Reference to Mewar', sponsored by MMCF and Intach, held on 15th February 2020 at University Guest House. The seminar was attended by Ms. Lokaviaa Mewar Rathore along with Ms. Jyoti Jasol, Ms. Purva Bhatia and Ms. Swati Jain.
Dr. Hansmukh Seth, Associate Curator, The City Palace Museum, Udaipur also represented MMCF in the seminar and presented a paper on 'Traditional techniques of Food Storage', which was awarded as best paper of the seminar.