Global Tourism workshop, Andhra Pradesh
Ms. Vrinda Raje Singh, CEO-Joint Custodian Initiative, Eternal Mewar and Mr. Raju Mansukhani, Consultant, Media and Communication - Maharana of Mewar Charitable Foundation represented MMCF at the Global Tourism workshop, Andhra Pradesh.
The workshop motive was to focus on Andhra Pradesh's tourism ecosystem and the upcoming Tourism City in Amaravati. The workshop also presents an excellent opportunity for interacting with Andhra Pradesh Government officials as well as influencers from legal and allied organisations, held on Friday, January 11, 2019 at Plenary Hall, Vigyan Bhawan, Maulana Azad Road, New Delhi.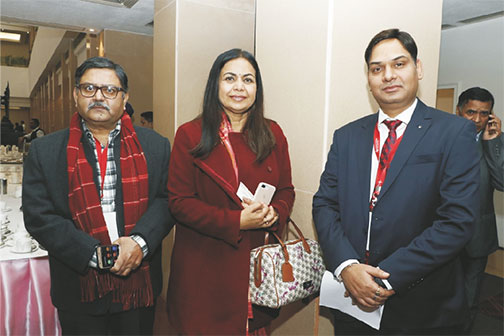 Ms. Vrinda Raje Singh, Mr. Raju Mansukhani and Mr. Vikas Sharma

Development in Maharana Mewar Special Library
Maharana Mewar Special Library (MMSL) is a world-class special library. By the end of this month MMSL has a collection of more than 34659 books of different varieties. Library has special collection of books on Literature, Religion, History, Arts, Zoology, Sports and General Geography about different part of India and globe and rare collection of books on Mewar dynasty.
56 new books were received in this month and all the books were processed in Accession Register. Classification done by Dewey decimal classification 19th Rev. Edition, Cataloguing (AACR II) and Bibliography; details uploaded in Library housekeeping software. Libsys and Eternal Mewar web site http://eternalmewar.in/mmsl. Stamping, tagging and scanning was also performed all these books.
The details and images of important books which were received in January 2019 were Shilotkirna Rajaprashasti : Mahakavyam (Mewar ka abhilekhiya itihas), Kalam Ar Katar : Kshatriya sahityakaro ka kavya - sankalan, Ravrane Inamdar : Kulvritanta, Geeta Sar : Sukh ka aadhar-Bhav sagar par, Shri Shivmahimn stotram ki pravachanatmak vyakhya, Kothariji Shri Balwant Singhji ka jeevan charitra, Shriram Namamrit, Stories in khaki and other colours, It's easy to be you : Unlock the chaos to find your true potential, Pathways to light : An autobiography of magsaysay awardee, Making of Mauritius, Dusky Dawn:"Readings into the Indian Mindset", She :There is an 'Aparajita' in every girl, Pataudi Nawab of cricket, Pastel Moods, Gold and coral : Presentation arms from Algiers and Tunis, Arlott, swanton and the soul of english cricket, Passing by India, Pradhan Rai Pannalal Mehta :Mewar vibhuti, Delwara : History before medieval period, Pavilions in splendour : The cricket pavilions and grounds of cheshire, Splendours of the subcontinent : A Prince's tour of India 1875-6, Eastern encounters : Four centuries of paintings and manuscripts from the Indian subcontinent, Braving the waves : Showcasing the Indian coast guard, Red Sari : A Dramatized biography of Sonia Gandhi, Stories untold Vol.-1, Jodhpur Polo: December 2018-19.