Front cover of Books
Few books were purchased and added in the library archive from MMCF - Bhim Singh : A romance of mughal times, Hindu kingship and polity in precolonial India, Contributions of Thanjavur Maratha Kings : 2nd edition with a brief history of Chatrapathi Shivaji Maharaj, Dharmaveer Sambhaji Maharajah, Swami Samartha Ramdas, Cholas, Nayakas and Classical Art- Bharatanatyam, Walking tour Ahmedabad : Sketches of the city's architectural treasures, Daddy's Girl, I am a troll : Inside the secret world of the BJP's digital army, Ribbons and medals : Naval military and civil, Pictorial story of Windsor castle : "The most romantic castle that is in the world", Wooden and stone architechtural design work book, Dr. Karni Singh : Biography, Bikaner ke maharaja, Selected speeches of Maharaja Ganga Singhji of Bikaner : (1880-1943 A. D. ), Lallgarh Palace : Home of , Jaipur quilts, Story of the Jodhpur Lancer 1885-1952, Legend of Krishna in wall paintings of Gujarat and Rajasthan.
Front cover of Books
Heritage Conservation and Promotion
Documentation of old maps at Maharana Mewar Research Institute
Mr. Lalit Kumar Pathak (Consultant Lalit Pathak Paper and Arts Conservation, New Delhi) and with his team member's including Ms. Neha Panwar, Mr. Dheeraj Kumar and Ms. Aarti Chandel have been engaged for documentation, condition assessment and scientific studies leading to conservation of maps of MMCF, Udaipur.
They have been working at Maharana Mewar Research Institute since 5th January 2019. They have documented 500 maps till 31st January, 2019.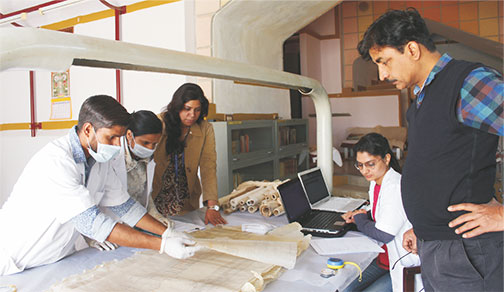 Mr. Lalit Kumar Pathak and team at work