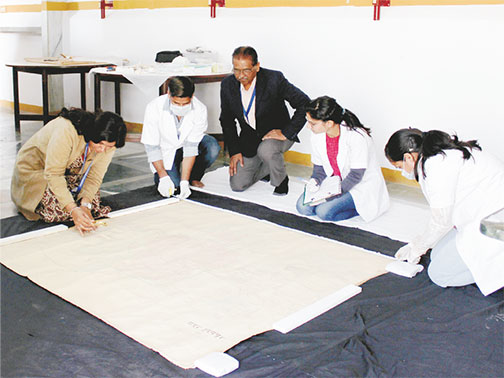 MMRI team accessing the condition of the maps
MMCF Outreach
Exhibition - Maharana Kumbha (r 1433 - 1468 CE)
The 602nd birth anniversary of Maharana Kumbha (1433 - 1468) was celebrated with great enthusiasm. Maharana Kumbha (Kumbhkaran) was born at a village called Madaria near Deogarh (Rajsamand District), according to the folklore. He was born on Makkar Sakranti to Maharana Mokal and Queen Sobhagaya Devi in 1417 CE. Maharana Kumbha was an able ruler, erudite scholar, religious person, a great warrior and an architecture expert. He was bestowed with numerous titles Maharajadhiraj, Rairaj, Raneraj (who gave patron to the scholars), Rajguru, Daanguru (for munificence), Shailguru (for military skills), Chapguru (for Archery), Halguru (capturing huge fortreses), Abhinavbharatacharya (founder of a new India), Hindusultan (title bestowed by the Sultans).
On this occasion the Maharana of Mewar Charitable Foundation organized exhibitions at The City Palace, Udaipur; Veer Bhawan, Moti Magri, Udaipur; Shree Suryanarayan Temple, Ranakpur; Kumbha Bhawan, Chittorgarh Fort, Chittorgarh and Astabal at Kumbhalgarh Fort. The exhibition depicting the life of Maharana Kumbha that displayed his life sketch, Region of Mewar under his rule, Mewars's relations with the neighbouring kingdoms, his struggles with the sultanates, Architectural Development under his reign, Literature and Arts, Economic conditions of Mewar and Maharana's Munificence, Prashastis (commendation) of Maharana Kumbha and Demise of Maharana Kumbha.
The exhibition is open for the visitors from 15 January 2019 - 15 February 2019.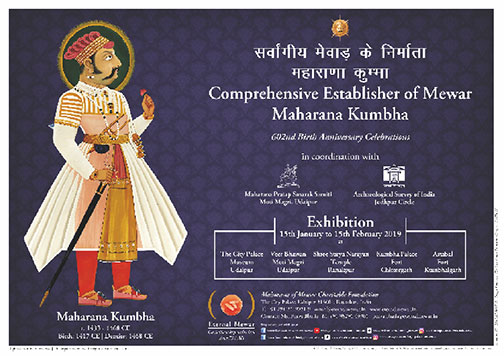 Poster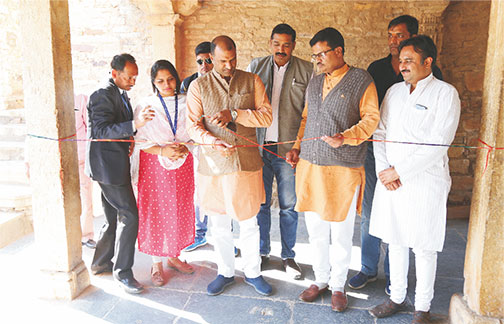 Member of Parliament from Chittorgarh, Mr. C.P. Joshi inaugurating the Maharana Kumbha exhibition at Chittorgarh Fort



Maharana Kumbha exhibition displayed at the City Palace Museum, Udaipur