The entire art took one and half years to complete. He was supported for this art work by his wife Mrs. Seema, daughters Abhisikha and Aarti. It took his some extensive research, going through the book on history of Mewar. The painting is drawn using natural colours.
MMCF is consistently working on reviving, uplifting and supporting such art form and artist by keeping the living heritage alive.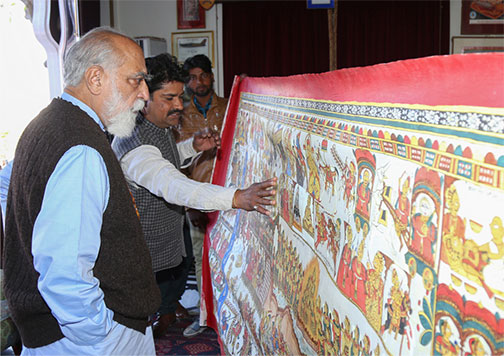 Mr. Abhishek Joshi briefing the details of his Phad painting to Shriji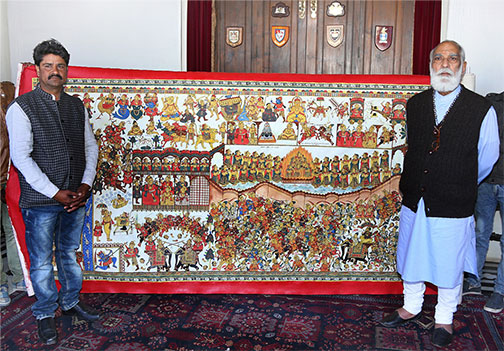 Mr. Abhishek Joshi presenting his art work to Shriji
Holika Ropan - Setting of Holika Effigy
Holika Ropan (setting up a Holika Effigy) is a unique ritual observed in the Northern part of India on Purnima or the full moon day in the Magh month. The effigy was made at The Manek Chowk, The City Palace, Udaipur with traditional customs and rituals on 19th February 2019. It is a ritual associated with Holi festival. The day kick starts with the preparation for the Holi festival. Holika Dahan will take place on the next Purnima or full moon day, which is the Phalgun Purnima.

Holika Effigy at Manek Chowk, The City Palace, Udaipur
MMCF Outreach
Ahar Udaipur Heritage Walk
Ahar Udaipur Heritage Walk was an initiative taken forward by Maharana of Mewar Charitable Foundation, Udaipur with the support from Udaipur Municipal Corporation. MMCF in its Outreach Programmes has encouraged many such events. As per the ongoing initiatives, the 'Ahar' Udaipur Heritage Walk was organised on 9th February 2019. MMCF's goal is to be a
world leader in heritage conservation and community inclusion. The Foundation often has to generate its own benchmarks for this goal. MMCF is keen to share its bestpractice and conservation experience that has an ambitious knowledge transfer initiative in addition to its implementable conservation programme. The walk was attended by 11 people.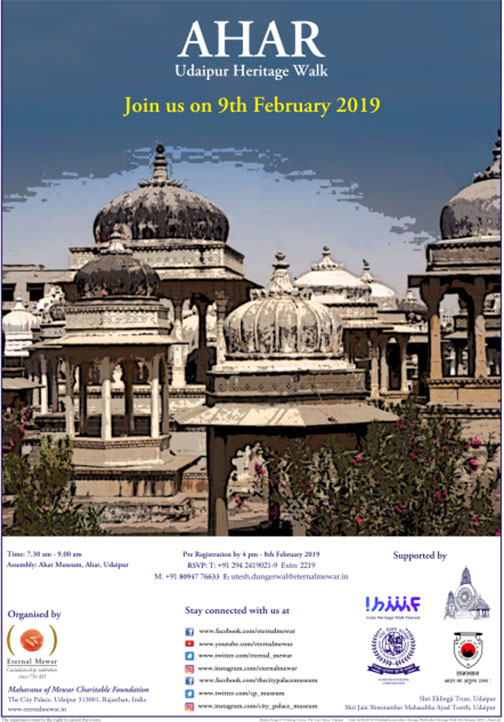 Ahar Walk Poster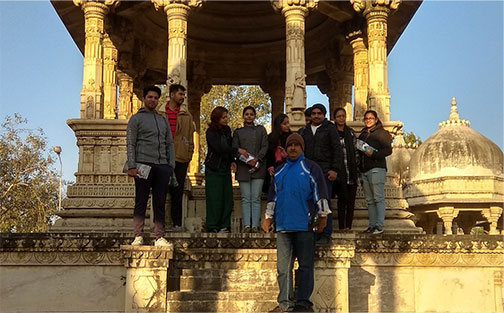 Participants at the Ahar Udaipur Heritage Walk