Documentation of old maps at Maharana Mewar Research Institute
Mr. Lalit Kumar Pathak (Consultant Lalit Pathak Paper and Arts Conservation, New Delhi) and his team member's Ms. Neha Panwar, Ms. Aarti Chandel and Mr. Dheeraj Kumar have been engaged for documentation, condition assessment and scientific studies leading to conservation of maps of MMRI under MMCF, Udaipur. They have documented 1480 maps till 31st March, 2019.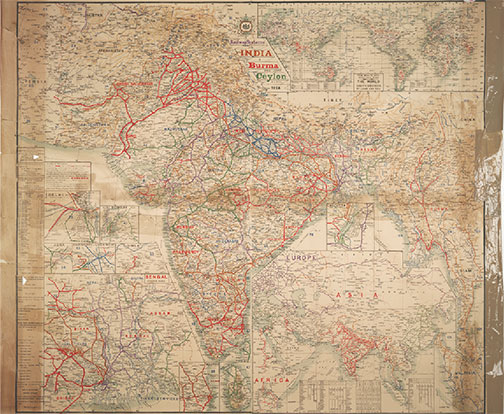 Map of Railway System of India, Burma and Ceylon 1924 CE being documented by Conservation team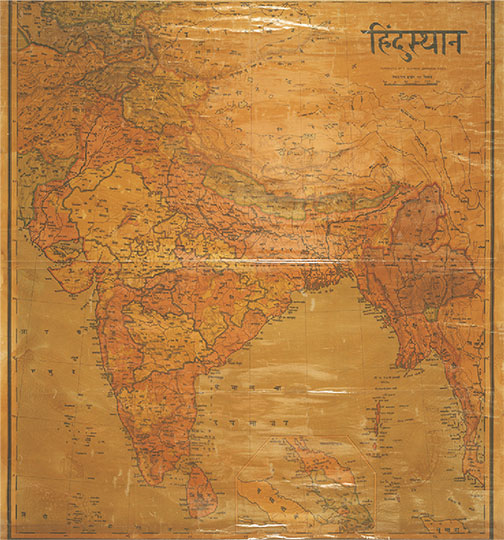 Map of Hindusthan being documented by conservation team
Visit of Dr. Ulrike Teuscher, Historian
Dr. Ulrike Teuscher, Historian from Germany visited Maharana Mewar Research Institute, The City Palace, Udaipur on 11th March 2019. She was briefed about the bahidas and has shown interest in working on Haqiqat Bahidas.
Heritage Conservation and Promotion
Udaipur Landscape Workshop
Several paintings from The City Palace Museum, Udaipur, would travel as part of a proposed international exhibition at the Freer | Sackler, the Smithsonian's museum of Asian Art, in Washington D.C. The City Palace Museum, Udaipur, organised a two-day 'Udaipur Landscape Workshop' on 67th March 2019 as part of a multi-disciplinary approach to its paintings that additionally depict landscapes. Geology, geography, hydrology and history, disciplines essential to understand these paintings, were discussed by a panel of scholars and experts during the course of the workshop.
The participants included Dr. Debra Diamond, Curator, Freer | Sackler; Dr. Dipti Khera, Assistant Professor, New York University; Dr. Emma Stein, Curatorial Fellow, Freer | Sackler; Dr. Josephine Rodgers, Marcia Brady Tucker Fellow, Yale University Art Gallery; Dr. I. S. Ranawat, Professor of History; Prof. N. S. Rathore, Principal of Guru Nanak Girls P .G. College; Dr. P. S. Ranawat, former Professor of Geology, MLS University; Ms. Anu Khandal, former Heritage Expert, DRONAH; and Dr. Hansmukh Seth, Associate Curator, Ms. Priyanka Seth, Curatorial Assistant, and Ms. Chelsea Santos, Assistant Curator at The City Palace Museum, Udaipur.
The sessions were conducted in the MMCF conference room at The City Palace Museum, Udaipur. The workshop enabled the participants to deliberate on the various scenes depicted across the paintings; why did the artist depict it in that manner, where is it located, what is the history behind it, and the role that rock formations, water systems and geography play. A site visit to some of the places depicted in the paintings was conducted followed by a visit to the conservation laboratory, organised to enable a better viewing and understanding of a few paintings.