The customised HVAC system now has two parts- one is the humidifier which helps in introducing humidity when the RH inside the storage room is below 45% and second is the Centrifugal fan which helps in lowering the RH when it goes above 55%. The system automatically cuts off when the RH reaches the appropriate level. Additionally, the size of the compactors and flat files were customised and manufactured according to the size of the archival boxes consisting of photographs and the large size Mewar paintings, and the available area of the storage rooms, was kept in consideration.
XRF Analysis of Maharana Pratap's Arms and Armours
XRF Analysis for material identification of Maharana Pratap's Arms and Armours was done on 16th March 2019. Mr. Nagendra Kumar did the analysis, under the guidance of Dr. Vandana Singh; a Delhi-based metal conservator, involved in the arms and armour conservation at The City Palace Museum, Udaipur.
Exhibition on Rajasthan Day
On the occasion of Rajasthan Day, celebrated annually on 30th March 2019, The City Palace Museum, Udaipur, set up a brief exhibition from 26th March to 7th April 2019, at Shilp Sabha. The panels displayed trace the history of the state of Rajasthan and how it transitioned from several independent, princely states, into one unified state. Mewar's contribution in this transition has been highlighted, with Mewar, under the leadership of Maharana Bhupal Singh, taking the initiative. Several archival photographs dating back to the state's formation i.e. 1948-1949 CE, accompany the exhibition.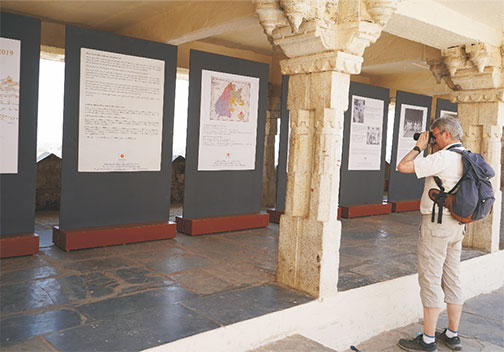 Exhibition at Shilp Sabha on the occasion of Rajasthan Day
Restoration work of East facade of MMSL (Maharana Mewar special Library )
The Eastern facade of Maharana Mewar Special Library was deteriorated and the bulging in the existing plaster was found during the inspection by project team MMCF. The restoration work of facade was started.
The restoration and renovation work commenced in February 2019.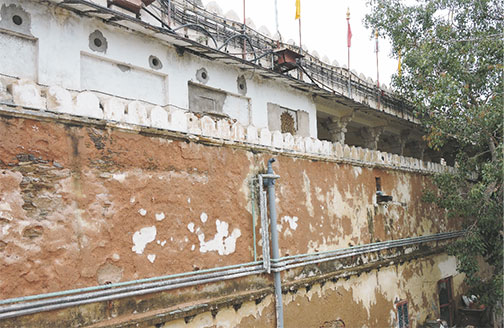 Eastern facade of Maharana Mewar Special Library before restoration work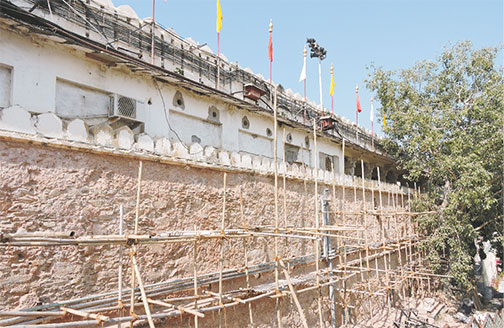 Eastern facade of Maharana Mewar Special Library during restoration work