This year, Maharana Mewar Foundation 37th Annual Award Distribution Ceremony - 2019 was held on Sunday the 10th March 2019 at Manek Chowk, The City Palace, Udaipur. The distribution ceremony starts with the presentation of certificates to students from schools and universities in Udaipur and across the State of Rajasthan. This was followed by the main Ceremony when the international and national awardees gather on the dais to receive their awards from Dr. K. Kasturirangan, Chief Guest and Shriji Arvind Singh Mewar, Chairman and Managing Trustee of Maharana of Mewar Charitable Foundation, Udaipur.
The international award instituted in 1996 and named after Col. James Tod is to honour a foreign national who has made a lasting contribution through his work of permanent value and understanding of the spirit and values of Udaipur and India. This year the award is given to Dr. Paul T. Craddock who has had a life-long interest in early technology and science. After graduating in Chemistry at the University of Birmingham he joined the Research Laboratory of the British Museum. After his preliminary visit of the ancient mines and smelting remains of the Zawar mines in December 1982, the investigations revealed how important the mines of Mewar were throughout India for several millennia, an importance that through his work has now been revived. This process was the result of continued research and experimentation over a long period, initiated and supported by the mine's owners, the Maharanas of Mewar.
The National annual award, Haldighati Award, was awarded to Ms. Swati Chaturvedi, Freelance Reporter for print and broadcast media.
Hakim Khan Sur Award was conferred to Mr. Suresh Wadkar in recognition of his distinguished service of permanent value to society by spreading the message of integration and introducing Hindustani Classical Music to thousands of students.
Maharana Udai Singh Award to Ms. Geeta Seshamani, a senior wildlife conservationist and an animal rights activist. Mr. Kartick Satyanarayan, an active senior wildlife conservationist and Co-Founder and Chairman of Wildlife SOS.
Panna Dhai Award to Mr. Swapan Debbarma and his 9 year old daughter Ms. Suma Debbarma.
Maharishi Harit Rashi Award to Dr. Narottam Pujari and Dr. Hemant Krishan Mishra.
Maharana Mewar Award to Ms. Malini Awasthi.
Maharana Kumbha Award to Prof. Girish Nath Mathur and Dr. Jitendra Kumar Singh 'Sanjay'.
Maharana Sajjan Singh Award to Mr. Jamna Lal Kumhar.
Dagar Gharana Award to Ustad Mohi Bahauddin Dagar.
Rana Punja Award to Mr. Jhalam Chand Angari.
Aravali Award to Mr. Sandeep Singh Maan.
This year Best Police Station of Rajasthan Award was given to Police Station Makbara, District Kota, Rajasthan.
This year Bhamashah Student Award was given to 18 students, Maharana Raj Singh Student Award to 8 students and Maharana Fateh Singh Student Award to 80 students.
Vote of thanks was given by Mr. Lakshyaraj Singh Mewar, Trustee, Maharana of Mewar Charitable Foundation, Udaipur.
Master of Ceremony were Ms. Rupa Chakravarty and Mr. Gopal Soni.
Please visit this link to download MMFAA Scheme of Annual Awards and Honour Roll:
http://www.eternalmewar.in/uploads/collaboration/Scheme-of-Annual-Awards-Honour-Roll.pdf
On the 9th March 2019 as part of the event Hindustani Classical Music Concert was organised at The Manek Chowk, The City Palace, Udaipur. Ustad Mohi Bahauddin Dagar, Rudra Veena Artist presented a enthral performance. He was accompanied by Shri Sanjay Agle on Pakhawaj and Shri Yashodanandan on Tanpura.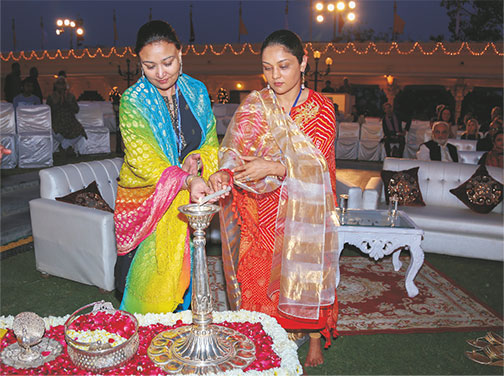 Ms. Bhargavi Kumari Mewar and Ms. Padmaja Kumari Parmar lighting the lamp