Restoration & Renovation work of Sabha Shiromani-ka-Darikhana
Sabha Shiromani-ka-Darikhana was built in 17th century during reign of Maharana Karan Singh. It is one of the oldest parts of The City Palace, Udaipur. During the inspection of area, few decorative parts of the stone columns, toddies, ornamental flowers etc were missing and there was an improper old paint layer. Project team has undertaken the work of restoration as per traditional practice work of lime araish on the columns and beams in the month of May, 2019 and still ongoing.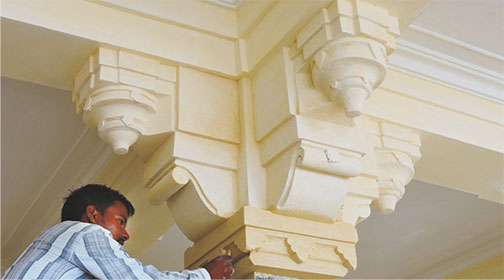 Lime Araish Work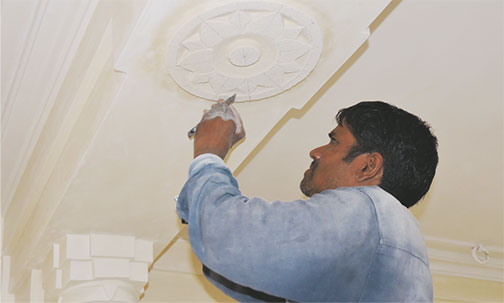 Carving Work for Making Ornamental Flower
Restoration & Renovation work of Bhupal Prakash
Bhupal Prakash situated at West wing, 2nd floor, Zenana Mahal is the part of The City Palace which was well build up in British Architectural style during reign of Maharana Fateh Singh for his son Maharana Bhupal Singh in 19th century. During the inspection it was found that the existing plaster was deteriorated and bulging in plaster was found. The restoration & renovation was undertaken by the project team of MMCF and work was commenced by traditional practice with lime araish in the month of June 2019.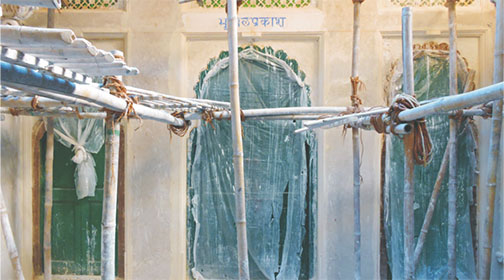 After Lime Plaster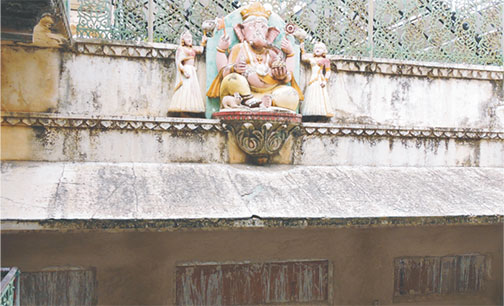 Before Restoration Work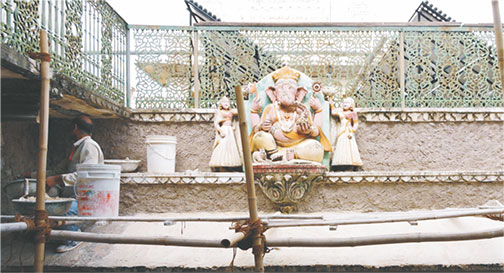 After Lime Plaster Work
Identification, Marking and Installation of Boards at The City Palace premises
Under the documentation of old maps at Maharana Mewar Research Institute a new map from the period of Maharana Fateh Singh was found and certain areas were identified that were not know earlier. There new areas were Leela ki Paiga (Now EDR); Peepli ka Paiga (Now HR Office and Palace Motor Garage); Shilp Sabha (Area behind Hathi Baithak) and Kheech Mandir (Now MMHPT and Media Office).