training in agriculture and animal husbandry; infrastructure improvement of schools; healthcare delivery and awareness training and social awareness against orthodox practices such as child marriage, dowry, etc. While in urban areas SVSN supports financially and health care for needy widows. SVSN has undertaken an endeavour to improve the quality of life of destitute widow residing in Udaipur and neighbouring areas of Udaipur with an objective to provide free monthly medical check-up by doctors, distribution of medicines for the whole month and if necessary refer them to other specialties for surgeries like cataract, dental care; to provide monthly pension to widow so that they can fulfil their very basic needs; to provide scholarship stationeries and uniforms to children of young widows so that they can continue their education and to provide skill development training to young capable widows so that they can earn their livelihood.
SVSN organizes a free medical camp in Udaipur which includes eye, sugar and blood pressure check-ups, surgeries and free distribution of full course of medicines for the month for these widows. Likewise every last Sunday of the month, the SVSN organized a free medical health Check-up camp at Theosophical Society, Udaipur on 25th August 2019.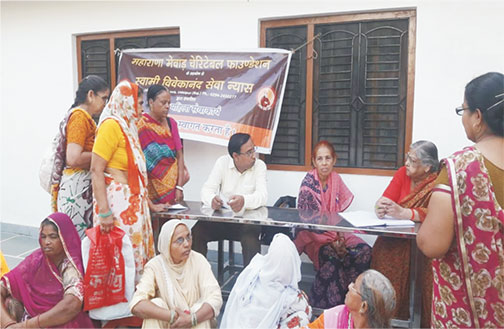 Beneficiaries at the SVSN Camp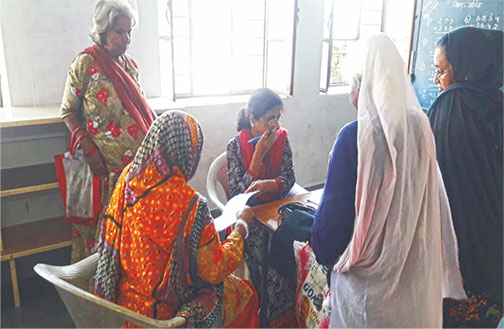 Dr. Maina Jain examining the patients
Academic Initiatives
Annual Guide Orientation Programme 2019
The two day Annual Guide Orientation Programme was held on 26th and 27th August 2019, Mr. Bhupendra Singh Auwa, Administrator in Chief, Maharana of Mewar Charitable Foundation and Ms. Smita Vats, Founder- Director of 'Itihaas' a NGO, launched the program at Durbar Hall, Fatah Prakash Palace, Udaipur along with trainer Mr. Sarthak Malhotra, Ms. Shivani Chander and Ms. Jyotika Goverdhan Bhaskar. A total number of 197 participated in the guide orientation. A brief presentation was given by the Museum Conservators, Ms. Anuja Mukherjee and Ms. Bhasha Shah.
On the second day of the programme guides were explained about the various subjects like soft skills, digitalization development, and cashless transactions etc.
After the lunch, the two-day programme was evaluated, through the information provided for skill development. In this regard, examination for guides was conducted by National Skill Development Corporation, New Delhi with a written test and a viva.
Comments from guides -
"Sessions were good, informal and interactive, enhancing guiding skills of existing guides of MMCF Udaipur."
"Many illustrations were provided for communication skills ---body language, personal hygiene and good etiquette."
"A meaningful education to learn about heritage and its protection, cleanliness of monuments and behaviour with exhibited objects----like not to touch, not to lean upon and the same to be communicated to visiting guests."