World Photography Day 2019 Poster, The Photograph Trail
Development in Maharana Mewar Special Library
MMSL is an excellent special library. In this month, Maharana Mewar Special Library has a collection of more than 35190 books of different varieties. Library has special collection of books on Literature, Religion, History, Arts, Zoology, Sports and General Geography about different part of India and globe and rare collection of books on Mewar dynasty.
8 new books were received in this month and all the books were processed in Accession Register. Classification done by Dewey decimal classification 19th Rev. Edition, Cataloguing (AACR II) and Bibliography; details uploaded in Library housekeeping software. Libsys and Eternal Mewar web site http://eternalmewar.in/mmsl. Stamping, tagging and scanning was also performed all these books.
Few books were purchased and added in the library archive of MMCF-
Courage and commitment : An autobiography, Photowallah, Mewar ka sher Maharana Pratap (Haryanvi veerakhyan kavya), Champaner pavagadh, Jhalawar: Itihas, sanskriti aur paryatan, On leaders and icons from Jinnah to Modi, Unsung by Anita Pratap and Mahesh Bhat
Front Cover of the books
Heritage Conservation and Promotion
Training programme for attendants: Part 3
The third part of the training series with the attendants was conducted by the Museum Conservators, Ms. Anuja Mukherjee and Ms. Bhasha Shah, from 5th to 8th August 2019. The session involved a visit to the Conservation laboratory; they were briefed on the deterioration of art objects and the work involved on part of the conservators to treat the objects in order to increase its life. It reinstated the need for the attendants to be vigilant in their care of Museum objects. The session ended with a felicitation of the participants for having had successively completed the three parts of the training programme.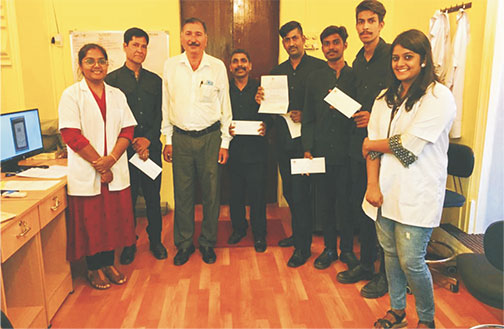 Attendants with their certificates of participation