The guides were briefed by Mr. Bhupendra Singh Auwa, Administrator in Chief, Maharana of Mewar Charitable Foundation, where he briefed them with power point presentation with slides and photographs of historical places and it importance. Later on the guides had a brief meeting with Mr. Lakshyaraj Singh Mewar, Trustee, MMCF.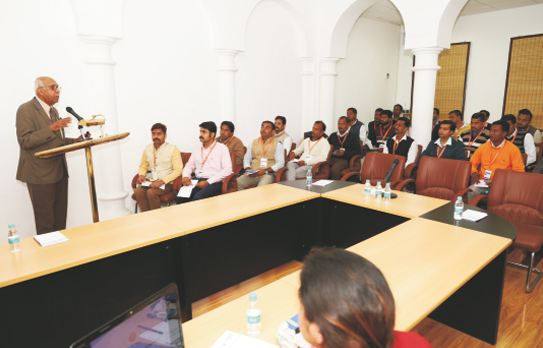 Mr. Bhupendra Singh Auwa briefing the newly inducted guides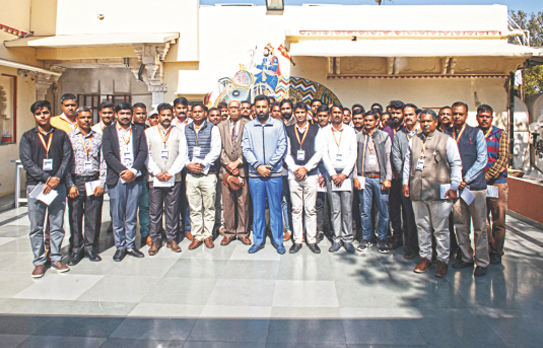 Newly inducted guides with Mr. Lakshyaraj Singh Mewar
Development in Maharana Mewar Special Library
MMSL is an excellent special library. This month, Maharana Mewar Special Library has a collection of more than 35342 books of different varieties. Library has special collection of books on literature, religion, history, arts, zoology, sports and general geography about different part of India and globe and rare collection of books on Mewar dynasty
16 new books were received this month and all the books were processed in Accession Register. Classification done by Dewey decimal classification 19th Rev. Edition, Cataloguing (AACR II) and Bibliography; details uploaded in Library housekeeping software.
Libsys and Eternal Mewar web site http://eternalmewar.in/mmsl. Stamping, tagging and scanning was also performed all these books
The details and images of important books which were received in January 2020 were An eventful year 2016-17 : Striding towards New India, New horizons 2019, Vanyavarna : A book about the life and art of the great artist Jayavantha Munnolli, Taj Magazine Vol-46 No.2/2019, Ethical Boardroom magazine - Autumn 2019, Traffic : Newsletter on wild life trade in India - Special issue on Medicinal Plants (Issue 31, June 2019), Udaipur: Seen and unseen Jodhpur Polo - 2019.
Udaipur: Seen and unseen. Nari (Vol-2, issue 4) January- March - 2020, Udaipur Sachitra, Baolis : Heritage top 10 baolis, Dilvaso, Vantage:Karvy private wealth.
Heritage Conservation and Promotion
Visit of Ms. Sunita Dhavale and Ms. Anjana
Visit of Ms. Sunita Dhavale, Deputy Secretary to Government of India and Ms. Anjana, Under Secretary (Akad-i) visited the City Palace Museum, Udaipur to carry out physical inspection on 31st January 2020. They were from the team which conducts inspection for the release of Museum Grant Scheme.