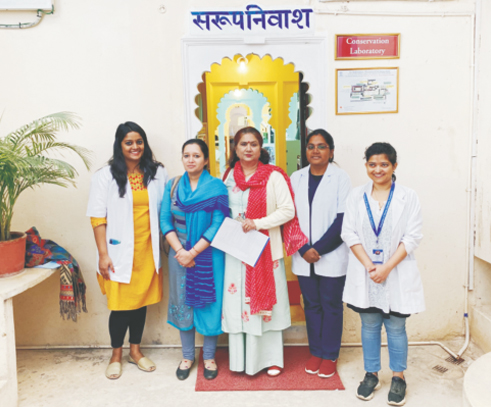 Ms. Sunita Dhavale, Ms. Anjana, Ms. Anuja Mukherjee, Ms. Bhasha Shah and Ms. P. M. Vasundhara

Exhibition: Udaipur Seen and Unseen
Udaipur Seen and Unseen, an exhibition of water colour paintings by artist Dr. Hiroshi Shimazaki from Canada was on display at Shilp Sabha, Manek Chowk, The City Palace, Udaipur from 12th January -22nd January 2020.
In this exhibition, Udaipur sites seen through the eyes of a Japanese‑Canadian geographer are rendered in 36 watercolours. For Shimazaki, Udaipur and environs is a romantic open‑air classroom where the integration of thought and painting serve as a conduit towards the appreciation of the living landscape. Shimazaki's Indian painting journey began with a 1976 research trip to Badrinath. Udaipur's romantic atmosphere enraptured his soul and ignited his imagination and he has returned several times. The watercolours presented here were created from a selection of field sketches made in this region between 2004 and 2019. Shimazaki was delighted, on his last two visits, to be accompanied by his friend, retired geologist Professor Dr. Pushpendra Singh Ranawat.
The paintings afforded an opportunity for the native Udaipur academic to share his distinctive interpretations.
Dr. Hiroshi Shimazaki, PhD, born in Tokyo and educated in political science, economics, and cultural geography in Japan and Canada. He is Professor Emeritus, University of Lethbridge, Alberta, Canada. He has been a visiting professor at various academic institutions in Canada, Ecuador, Germany, Japan, Malaysia and Mexico. On the last day of the exhibition Mr. Lakshyaraj Singh Mewar visited the exhibition. Dr. Hiroshi briefed him with the details of the paintings and later presented one of his art work.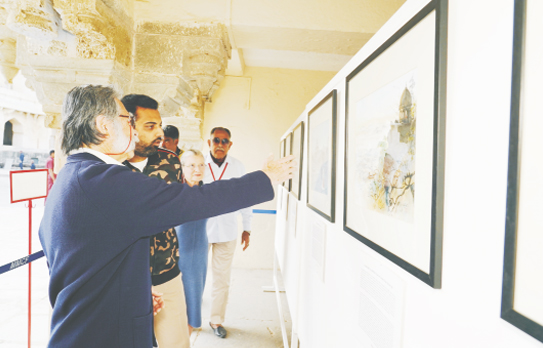 Dr. Hiroshi Shimazaki briefing Mr. Lakshyaraj Singh Mewar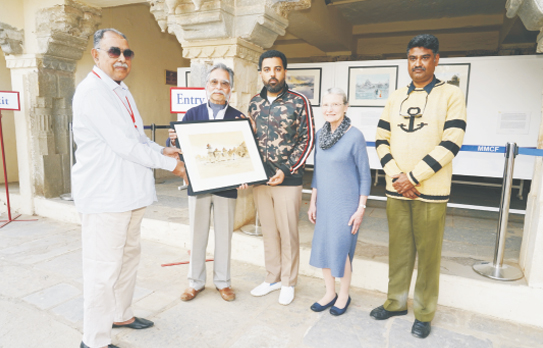 Dr. Hiroshi Shimazaki presenting one of his paintings to Mr. Lakshyaraj Singh Mewar

Exhibition - Maharana Kumbha (r. 1433 - 1468 CE)
The 603rd birth anniversary of Maharana Kumbha (1433 - 1468) was celebrated with great enthusiasm. Maharana Kumbha (Kumbhkaran) was born at a village called Madaria near Deogarh (Rajsamand District), according to the folklore. He was born on Makkar Sakranti to Maharana Mokal and Queen Sobhagaya Devi in 1417 CE. Maharana Kumbha was an able ruler, erudite scholar, religious person, a great warrior and an architecture expert. He was bestowed with numerous titles Maharajadhiraj, Rairaj, Raneraj (who gave patron to the scholars), Rajguru, Daanguru (for munificence), Shailguru (for military skills), Chapguru (for Archery), Halguru (capturing huge fortreses), Abhinavbharatacharya (founder of a new India), Hindusultan (title bestowed by the Sultans). On this occasion the Maharana of Mewar Charitable Foundation organized exhibitions at The City Palace, Udaipur; Veer Bhawan, Moti Magri, Udaipur; Shree Suryanarayan Temple, Ranakpur; Kumbha Bhawan, Chittorgarh Fort, Chittorgarh and Astabal at Kumbhalgarh Fort.