The exhibition depicting the life of Maharana Kumbha that displayed his life sketch, Region of Mewar under his rule, Mewars's relations with the neighbouring kingdoms, his struggles with the sultanates, Architectural Development under his reign, Literature and Arts, Economic conditions of Mewar and Maharana's Munificence, Prashastis (commendation) of Maharana Kumbha and Demise of Maharana Kumbha.
The exhibition is open for the visitors from 15 January 2020 - 15 February 2020.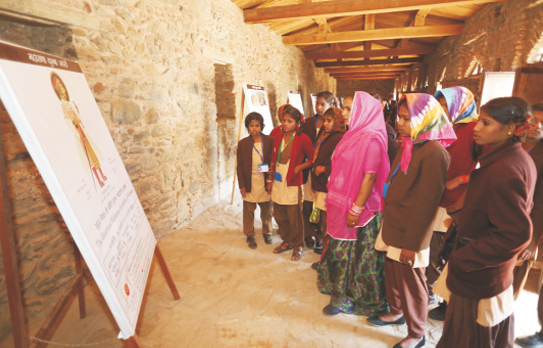 Maharana Kumbha Exhibition at Astabal, Kumbhalgarh Fort

Documentation of Mahasatyaji: A Royal Cremation Ground
Maharana Mewar Research Institute initiated the work of documenting the constructions of royal cenotaphs at Mahasatyaji Ahar. According to tradition, after the coronation the Maharana visits Mahasatyaji and pays his respect to his ancestors as a descendent of Mewar dynasty.
Maharana Karan Singh (r. 1620 - 28 CE) constructed the first royal cenotaph of his father Maharana Amar Singh I at Mahasatyaji Ahar. Following this tradition Maharana Jagat Singh I (r. 1628 - 52) and Maharana Raj Singh I (1652 - 80 CE) constructed the cenotaphs of late Maharana's Karan Singh and Maharana Jagat Singh I. Sometimes this tradition could not continue. Maharana Amar Singh II (r. 1698 - 1710 CE) and Maharana Sangram Singh II (r. 1710 - 34 CE) cenotaphs were left incomplete probably due to family differences or some astrological reasons. In the 19th Century this tradition was properly followed by Maharanas of Mewar. Maharana Jawan Singh (r. 1828 - 38 CE), Maharana Sardar Singh (r. 1838 - 42 CE), Maharana Swarup Singh (r. 1842 - 61 CE), Maharana Shambhu Singh (r. 1861 - 74 CE), Maharana Sajjan Singh (r. 1874 - 84) and Maharana Fateh Singh (r. 1884 - 1930 CE) constructed the cenotaph of late Maharanas as their successors.
In 1926 CE, Maharana Fateh Singh gave grant of Rs. 1 lace 36 thousand for construction and renovation of royal cenotaphs. On 4th May, 1926 CE Maharana Fateh Singh gave orders to engineer Santram Singh for constructing the cenotaphs of Maharana Raj Singh I, Maharana Jai Singh, Maharana Jagat Singh II, Maharana Pratap Singh II, Maharana Raj Singh II and Maharana Hammir Singh II and complete the cenotaph of Maharana Sangram Singh II. In this order Maharana Bhupal Singh (r. 1930 - 55 CE) also constructed the cenotaph of Maharana Fateh Singh in 1932 CE and Maharana Bhagwat Singh (r. 1955 - 84 CE) constructed the Maharana Bhupal Singh's cenotaph in 1960 CE. Mewar family still follows this tradition of constructing the memorable cenotaph. Shriji Arvind Singh Mewar also constructed the cenotaph of his father late His Highness Maharana Bhagwat Singh Mewar of Udaipur in 2005.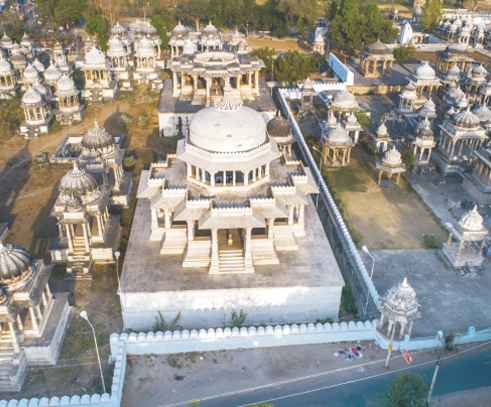 Cenotaphs at Mahasatyaji Ahar

VIP Visit
Visit of Mrs. Josephine Weller from UK
Mrs. Josephine Weller from UK accompanied by her daughters Miss Karly Weller, Mrs. Jessica Francis and Mrs. Jacqueline Taylor-Roberts visited the City Palace, Udaipur on 28th January 2020. Ms. Josephine is great granddaughter of Late Thomas Duncan Heath Lonargan who was an engineer at Udaipur in the reign of Maharana Sajjan Singh and Maharana Fateh Singh. Late Duncan and his wife Late Mrs. Mary Eliza Lonargan took their last breath in Udaipur and were buried in graveyard at Alipura near St. Paul Senior Secondary School, Udaipur. It is after 120 years their family was in Udaipur. The family contacted The City Palace