administration in 2009 and wished to revive their memories. Mr. Bhupendra Singh Auwa, Administrator in Chief, Maharana of Mewar Charitable Foundation welcomed the family. The family visited the graveyard of their Great Grandfather and Great Grandmother on 29th January 2020. They also visited St. Mary's Convent Senior Secondary School where her Great Grandmother has studied.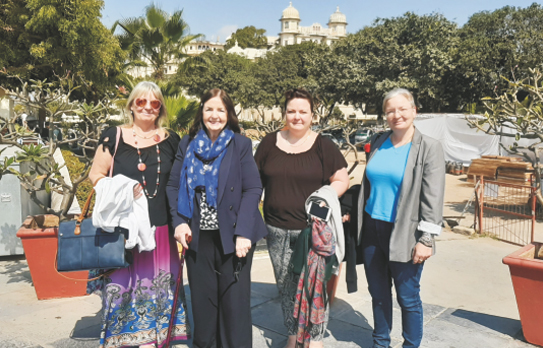 Mrs. Josephine Weller, Miss Karly Weller, Mrs. Jessica Francis and Mrs. Jacqueline Taylor-Roberts

Media Buzz
Publication: Naari
Extract from the article entitled: Mewar Paintings - A Chronicle of their time
By Mallik Thatipalli
Edition: : January - March 2020
For complete article please go to: http://www.eternalmewar.in/media/news/mewar-paintings-a-chronicle-of-their-time
Article snippet: In this interview Shriji Arvind Singh Mewar talks about Mewar School of Paintings and the rich legacy of Mewar in the field of art and culture.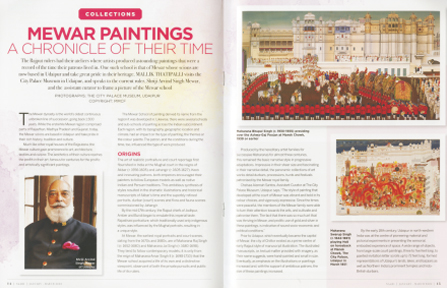 Achievement of the Trustee
3rd Guinness World Record to Mr. Lakshyaraj Singh Mewar - 'Go Green' initiative
Mr. Lakshyaraj Singh Mewar, Trustee, MMCF earned him the third Guinness World Record in just under 10 months in a unique 'Go Green' initiative called 'Vriksh Hi Jeevan Abhiyaan' on 28th January 2020. During the 'Go Green' campaign, thousands of school students, Indian Army personnel and citizens from all walks of life participated and planted 4035 saplings varies from Amaltaj; Srahdana; Gulmohar; Kesiya Shayma in less than 60 seconds.
The previous world record for most saplings planted in 60 seconds stood at 2000 but this unique initiative in Udaipur by Mr. Mewar has broken the previous record.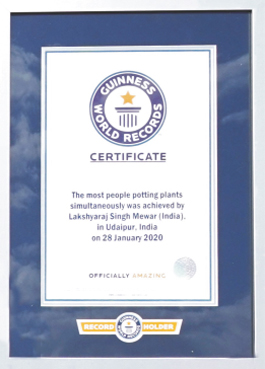 Guiness World Record Certificate

Mr. Mewar was conferred the certificate "The most people potting plants simultaneously" by Ms. Shefali Mishra, the official adjudicator, Guinness Book of World Records.
'Go Green' highlighted Mr. Mewar's idea for a cleaner and greener tomorrow with more saplings being planted by the citizens themselves.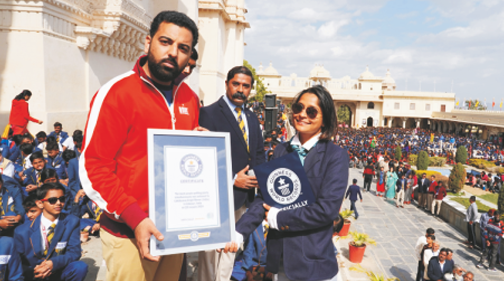 Mr. Lakshyaraj Singh Mewar receiving Guiness World Record