9 new books were added to the library in this month of February 2022 Books received included Kuchh Bachpan Aise Bhi, Parat Dar Parat, Darkte Rishte, Sanson ki Sargam, Sapnon ki Chhanv.
Books purchased and added in the library archive of MMCF in the month of February 2022 Shringara of Shrinathji: From the collection of the Late Gokul Lal Mehta, Chhatrapati Shivaji Maharaj Vastu Sangrahalaya : Research Journal2019, 4000 Varsh Prachin Aahar Sabhyata.
Heritage Conservation and Promotion
Florence in the World, The World in Florence
An Instagram LIVE was hosted by The City Palace Museum, Udaipur on 10th November 2021 to promote Florence in the World, The World in Florence, a collaborative venture with the institution Fondazione Romualdo Del Bianco and its Life Beyond Tourism - Travel to Dialogue Movement. The first part of the LIVE was conducted in the exhibition space, in the Zenana Mahal portion of the Museum.
Viewers were briefed about the exhibition and on how to access the information using the QR codes. The sessions were facilitated by curators, Dr. Hansmukh Seth and Ms. Chelsea Santos. The second part involved a conversation with the Secretary General of the Foundation, Mr. Simone Giometti, about the upcoming festival in Florence and details on how it was conceptualized. In the previous month, on 5th October 2021, the team at The City Palace Museum, Udaipur were briefed about the details of the festival, during the LBT Info Day that it conducts for all participating institutions.
View here:
https://www.instagram.com/p/CWFxPDWpCOB/
View LBT Info Day:
https://www.youtube.com/watch?v=zHG5-puPiMI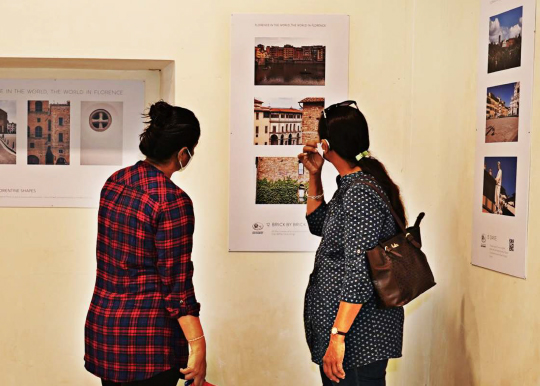 Visitors having a close view of the exhibition at The City Palace Museum, Udaipur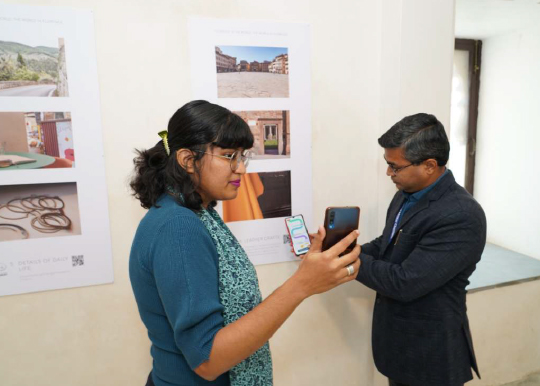 Dr. Hansmukh Seth and Ms. Chelsea Santos, during the LIVE shoot, operating the NFC website using the QR codes