The yatra was attended by Ms. Shakuntala Rawat, Minister of Devasthan, Mr. Tara Chand Meena, Udaipur District Collector; Ms. Preeti Shaktwat, Member of Legislative Assembly, Vallaabhnagar; Mr. Jagdish Raj Shrimali, Ms. Pragya Kewlramani, Commissioner, Devasthan Department; Ms. Prabha Gautam, ADM City; Mr. O.P. Jain, Additional Commissioner and Mr. Jatin Gandhi, Assistant Commissioner.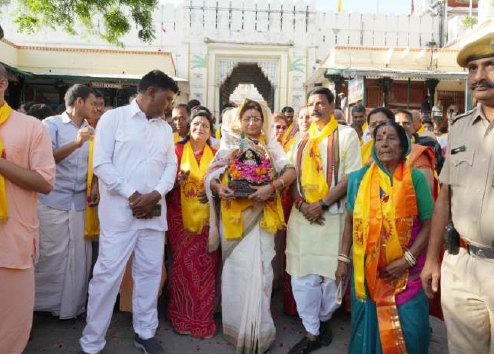 Assembly of participants outside Badi Pol, The City Palace, Udaipur for Dev Darshan Yatra

Art Adventure: March 2023
Art Adventure is a monthly series of fun-filled, hands-on workshops organized onsite by The City Palace Museum, Maharana of Mewar Charitable Foundation, Udaipur at the Activity Room, Zenana Mahal. The month of March being recognized on a world-wide scale as dedicated to women, had a wide range of activities on the given theme at the Museum. Celebrations during the month include women's day and women-centric festivals like Gangaur. The workshop Clay-Gangaur Painting, conducted from 1st-4th March 2023, and facilitated by Curatorial Intern (Museum Education) - Ms. Anamika Singh, allowed participants to indulge in painting clay figurines of Goddess Gauri; get creative and expressive as they connect with the culture and tradition of Rajasthan, through storytelling and folk songs.
Workshop Gangaur, Re-Imagined was conducted from 8th -11th March 2023, and facilitated jointly by Curatorial Interns (Museum Education) - Ms. Shruti Suresh and Ms. Anamika Singh. This workshop encouraged participants to re-imagine and re-interpret the Gangaur figurines in a new medium of paper Mache, clay and gauche, unlike the traditional usage of wood or clay. The workshop also touched upon the historic and modern-day ways of ornamentation and depictions.
Zenana in Rewind was based on the narrative of the new Exhibition titled Life in Zenana: The Inside-out of Udaipur's Palace for Women, a 300 year rendition of women's lives, many roles and attributes that they possessed while living within the Palace for Women, at Udaipur. The workshop enabled participants to engage with, re-imagine and situate themselves in scenes and scenarios from the 300 year history of the Palace for Women, at Udaipur as depicted in the exhibition. Participants could choose from their preferred medium to create aspects from this exhibition. This workshop makes use of visual cues, encouraged an of the curatorial storyline in the exhibition,urged thought, attempted to inculcate empathy, and mould the creativity of the participant. This workshop was facilitated by Curatorial Intern (Museum Education) - Ms. Shruti Suresh from 15th -18th March 2023.
| | |
| --- | --- |
| In the workshop Poshak Prep participants got to custom-make a mini-sized 3 piece Poshak or outfit for Gangaur! Participants learnt and explored traditional colours,fabrics,embellishment and styles seen on the textiles used for the Goddess. This was conducted from 22nd-25th March 2023, and facilitated by the Visitors Liaison Executive, Mr.Mudit Charles. | Poster: Art Adventure |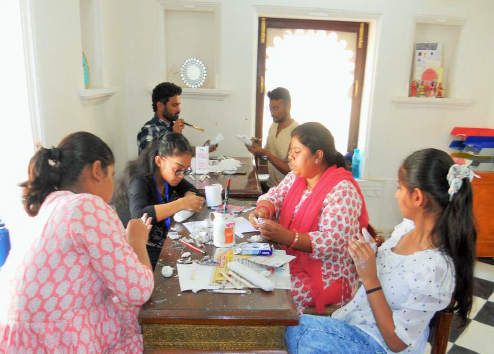 Ms.Shruti Suresh with participants at Gangaur, Re-Imagined workshop