Yogatsav at The City Palace
Maharana of Mewar Charitable foundation supported the Yoga initiative call by The Honorable Prime Minister of India, Shri Narendra Modi to celebrate International Yoga Day not just for one day on 21st June 2023 but for 100 days.
Under the same, an important theme has been given by him that 100 days - Yoga practice at 100 historical places - Yogotsav.
This event is being organized across the country by Morarji Desai National Yoga, an autonomous body of the Ministry of AYUSH, Government of India, in association with local yoga institutes.
In this episode, on 21st April 2023, this event was held at the City Palace. It was done in coordination with the local yoga organization Sanskriti Vikas Sansthan, Rajsamand. 300 participants took part in this event.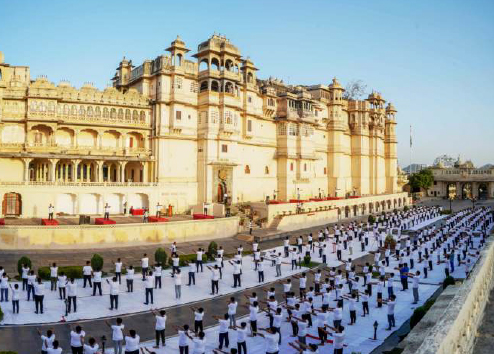 Yogotsav at the City Palace, Udaipur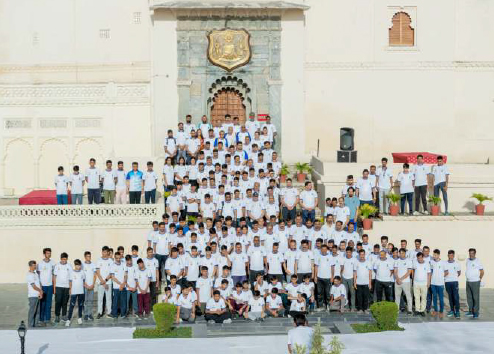 Participants for Yogotsav at Manek Chowk
Academic Initiatives
Visit of Ms. Marina Ruiz-Molina
Ms. Marina Ruiz-Molina, Paper Conservator from The MET, New York City visited earlier this month on 3rd and 4th March 2023 for her research project that looked into analysis and comparative study of pigments used in Indian paintings, with the aid of Multi spectral imaging techniques.
She came along with newly developed Multi spectral imaging lights from The MET and imaged a few Mewar paintings from Udaipur's City Palace Museum's collection along with its conservation team. These paintings - dating from first half of 18th century onwards - revealed interesting preliminary findings regarding the pigments used which would be analyzed and interpreted further, to establish concrete results.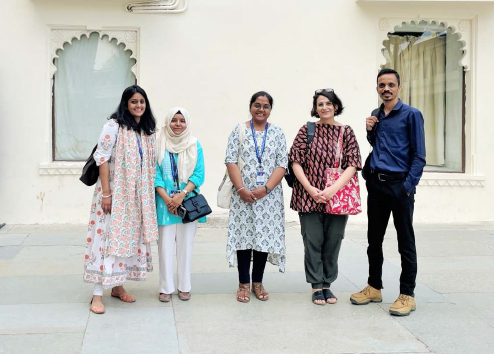 Ms. Marina Ruiz-Molina with Ms. Anuja Mukherjee, Ms. Nida Zainab, Ms. Bhasha Shah and Mr. Prashant Lohar in the conservation laboratory
Pratap Memorial Lecture
On 2nd March 2023, Department of History, Mohanlal Sukhadia University, Udaipur organized the 13th Pratap Memorial Lecture. Dr. Vandana Singh, Arms and Armour Conservation Consultant was invited as Speaker to deliver a lecture on ' Care and Conservation of Arms and Armour of Mewar Dynasty from the Udaipur Palace Armoury'. Dr. Hansmukh Seth was also present on the occasion, as a MMCF representative.