Supporting Saksham Project of Yuva Pahal, Pali, Rajasthan
Since its inception from year 2005, Yuva Pahal has trained 5900 youth and women from rural and urban area through its various skill training programs in various districts across Rajasthan. Maharana of Mewar Charitable Foundation has supported in the financial Year 2018-19 and the divine act has contributed a lot to hundreds of women of Rohat village, Pali. The Yuva Pahal was registered on 4th March 2005 under Society Act 1958 and Project Saksham came in existence on 23rd February 2017.
In last two years, the project Saksham has trained more than 200 women out of which 30 Women have been engaged in self and wage employment. Another 20 Trained females are ready to work in garment manufacturing unit in collaboration with FAB India. So this year will be for the training of new aspirants and sustainability of old trainees.
The Project Saksham motivates them to go further and do more innovative programs hence the MMCF has continued its support for the financial year 2019-20.
The project is mobilizing the female candidates from nearby villages of Rohat i.e. Singari, Bithu, Luni, Chotila, Sawalda Kalan, Bandai, Doodhli and Khandi etc. One new centre in Chotila village and one mobile Sewing centre are being started to benefit the maximum aspirants.
With the financial support being done by Shriji Arvind Singh Mewar of Udaipur, The Chairman and Managing Trustee of the Maharana of Mewar Charitable Foundation (MMCF) for Project Saksham in the financial year 2019-20, more than 140 new female candidates from the rural area will be trained and benefitted.
The main aims and objectives of this project are to conduct livelihood training for unemployed youth and women of the society, which can help them, live their life with self-respect and dignity. Saksham also takes care of the health and education program for women and children and also to develop and strengthen the community based organization for overall community development in every way possible.
The Project Saksham is empowering the women of the Society; Saksham means to make someone socially and financially capable and independent of leading a life ahead. The primary purpose of the program is to enable the students to focus on a particular set of working skills which should lead to a vocation or employment
Few motivating and life changing stories of this project is as mentioned:
Smt. Heera Devi - She is now a trainer in an organization and earns Rs. 8000-12000 per month by teaching others and self stitching work. His husband has expired hence she has responsibility of her in-laws too.
Ms. Kusum - She is studying in college and she takes order of stitching at her home only. She earns Rs. 4000 approx. by part time job. Also she is student of advance course at Yuva Pahal. And she will work for Fab India.
Mrs. Kirti - She is from Maharashtra and married in Rohat. She has been employed in Yuva Pahal for Project Saksham as Assistant Trainer. Now she is helping others to learn.
Ms. Kavita Sain - She is fond of learning sewing course only. She had no interest to complete her 12th Class but we motivated her to complete at least 12th std. Now she takes order of stitching at her home and earns Rs. 4000- 6000 approx. by part time job. Also she is student of advance course at Yuva Pahal. She will work for Fab India also.
Mrs. Puran Devi - She earns Rs. 5000 per month by taking orders and job work at Yuva Pahal Centre. She is enrolled in Advance course of stitching and interested to work with Fab India.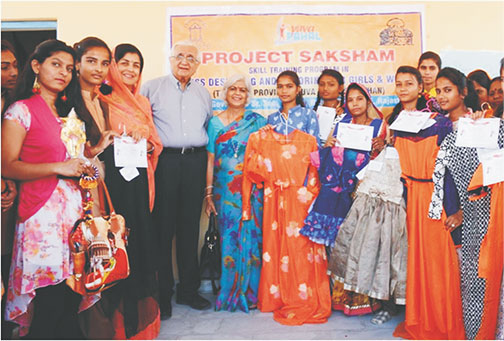 Beneficiaries at Saksham Project