Heritage Conservation and Promotion
International Museum Day
Alongside museums from all over the world, The City Palace Museum, Udaipur celebrated International Museum Day on Saturday, May 18th 2019. The exhibition was created in accordance with ICOM's theme for International Museum Day 2019: Museums as Cultural Hubs: The Future of Tradition, where an attempt was made to reach out to our diverse audience and make the history of Mewar relevant to them. Schools across Udaipur were invited to partake in the celebration. On that day, school students were provided free entry to the Museum on showing their school identity card.
The Museum exhibited its latest acquisition, a 56 foot long cloth painting especially for International Museum Day 2019, at the Museum's Lakshmi Chowk, Zenana Mahal, from 10th May to 10th June 2019. The Phad painting was made by Mr. Abhishek Joshi, a traditional artist from Bhilwara, Rajasthan, in August 2018. He is the recipient of the Maharana Sajjan Singh Award 2018.
A Phad is a cloth painting used by storytellers in Rajasthan to recount the legends of heroes and folk deities. This particular Phad depicted the 'Glorious History of Mewar' and was unique because it illustrated over 1,200 years of Mewar history and legend, from the time of Bappa Rawal up to the present day. The iconic painting included a list of rulers, and was filled with stories about love and marriage, battle and conquest, loyalty, devotion and sacrifice, and bravery.
For students, it was a wonderful opportunity to learn about the history of Mewar in a fun-filled and engaging way. The City Palace Museum, Udaipur received a footfall of 800 students from across Udaipur and several children and tourists from all over India and the globe, on that day. With much delight, they attempted to spot scenes in the painting with the help of the activity sheet provided to them and to take the Phad-based storybook as a memento.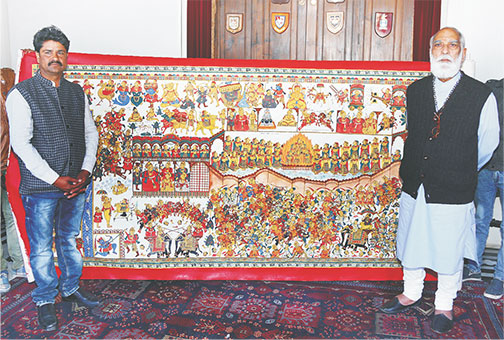 The artist, Mr Abhishek Joshi and Shriji Arvind Singh Mewar with the artwork, the 'Glorious History of Mewar' Phad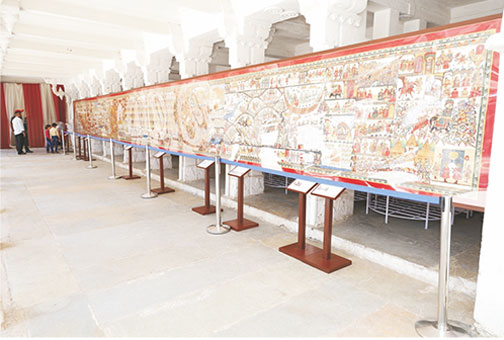 The Phad on display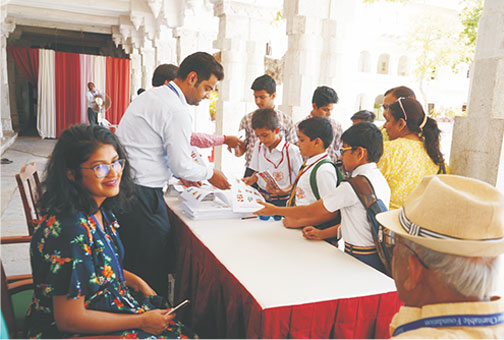 'Spot-the-scene' activity sheets being given to the students