Ranapratapeeyam, Dharti ka suraj, Sindhumitra Shri Bapparawal, Chetak ghore ka sawar, Sanskritik bhugol kosh, Sindhuputra maharaj Shri dahar, devata murti prakaranam, Constructing rajputana Rajasthan, Crusader for self rule, The Ahar culture and beyond, The Mahabharata, Laghu parashari, Janma patra deepak, Surya siddhant, Uttarkalamritam, Indra Vijay, Kamayabi kaise, Why women are what they are, Aadhunik sanskrit kavyashastra samikshanam, Kavya mimansa, Ishwar vilas mein Jaipur varnan, Shuklayajurveda ke anusar shiv tantra, Vedic astro solutions, Sawai Jaisingh dwara pradatta bhartiya vaidhya parampara ka jyotish mein yogdan, Bhartiya sanskriti mein vivah sanskar ka mahatva, History of Indian army, Pracheen bharat ka itihas, Dungarpur rajya ki bhitti chitrankan parampara, samaj, sanskriti, Jhalawara rajya ka itihas, Rajrishi sant pipaji, Jal Durga Gagron, Jhalawal ke pramukh shilalekh, Devkishan Rajpurohit granthawali, Mantri ka bangla, Pracheen bharate naree shiksha, Bhartiya sanskriti mein dan ka mahatva, Vrihad hast rekha vigyan, Swapna vigyan, Karmakand pradeep, Mewar ka itihas, Mughalkaleen bharat1526-1765, Sonebhadra ka itihas, Rajvansh ke sahityakar, Shabdarth ka sauhitya, Kundvasini, Baghelvansh ke chaar kaviratna, Object-d-Art: International journal for museum studies and cultural, Kumbhalgarh : The pride of maharana of mewar.
Front Cover of the books
Heritage Conservation and Promotion
Training session for attendants: Part II
The Museum conducted the second part of its training sessions with its attendants on 16th and 18th July 2019 in the MMCF Conference Hall. In this session, the Conservators, Ms. Anuja Mukherjee and Ms. Bhasha Shah demonstrated safe handling of art objects and the right methods to be employed in cleaning and maintaining them. Dummy objects of various mediums were used for the art handling experience; how they are to assess the condition of the object before lifting it for transfer, the appropriate method, precautionary measures to be taken, etc. were discussed post the art-handling. The participants were subsequently taken to a couple of display spaces within the Museum premises and were demonstrated cleaning techniques using various art-friendly tools for regular maintenance of Museum objects and galleries. This was followed by an interactive session where queries related to the programme were discussed.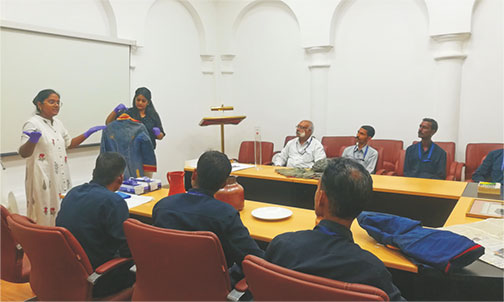 Art-handling using dummy objects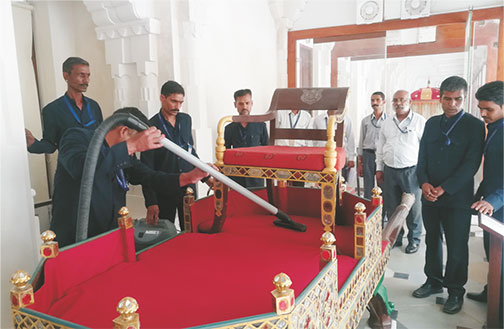 Cleaning and maintenance of Museum objects