Exhibition at Maharana Pratap Inter State Bus Terminal
In the month of november 2021 Posters were exhibited at Maharana Pratap Inter State Bus Terminal (ISBT), Kashmere Gate, New Delhi with the support of MMCF. It was a CSR initiative of DTIDC-Curated by INTACH Delhi Chapter. The initiative was to create rich history of India and reach out the masses in educating the velour of our rich cultural heritage.
Featured at the UN Climate Change Conference COP26, held in Glasgow
The Conservation team at The City Palace Museum, Udaipur including Ms. Bhasha Shah and Ms. Anuja Mukherjee, under the guidance of Conservation Consultant, Mr. S. Giri Kumar, submitted two contributions for the conference in Glasgow, 'Climate Change - Heritage at Risk' and 'Climate Action - Customised Ventilation System.' The contributions, in the form of footage and short films were invited from conservators across the world by the International Institute for Conservation (IIC), based in the UK, and which was one amongst a few conservation organisations to have participated at the UN Climate Change Conference COP26, held in Glasgow, from 30th October to 11th November 2021. IIC as a participant prepared a film to be screened at the conference on the topic of Changing Environment, and how the conservation profession can help in addressing the climate emergency.
The videos by Ms. Shah and Ms. Mukherjee highlighted the risk faced by the heritage structure (City Palace, Udaipur) and the collection due to the phenomenon of climate change, and the initiatives undertaken by the Museum to deal with them using Zero Carbon strategies.
Both the videos were selected and major portions of the same were included in the film by IIC titled 'Nothing is stable: Conserving Cultural Heritage in a Changing world.'
View Film:
https://www.youtube.com/watch?v=4sUDtgMtzpk
View IIC Report of COP26 and film:
https://www.iiconservation.org/content/iic-report-green-zone-cop26-plus-global-update
Birth Anniversary of Maharana Kumbha
Maharana of Mewar Charitable Foundation celebrates the birth anniversary of Great Maharana Kumbha (r. 1433-1468 CE). The 47th custodian of the house of Mewar, a versatile ruler, he gave patronage to art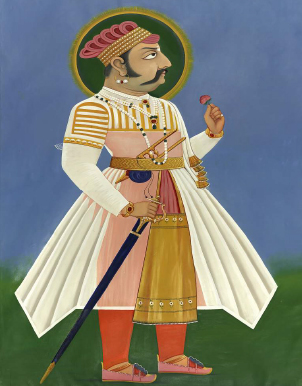 Maharana Kumbha
(r. 1433-1468 CE) in Mewar. He was also erudite scholar, musician and expert in architecture. Music and Dance - Compositions composed by Maharana Kumbha are Sangeetraj, Sood Prabandha, Sangeet Ratnakar, Rasik Priya (Mewar diallect commentary of Geet Govind), Vadhya Prabandhak which shows his extraordinary knowledg of music. Maharana Kumbha is also credited for popularizing the new genre of music called "Kumbh Malhar". Maharana Kumbha's book 'Nritya Ratna Kosh' provides a description of the various postures in acting, which validicts his knowledge of dance. During this period, Kathak and various dance styles like Tandava, Lasya etc. were also encouraged in Mewar. Painting and Sculptures - Under the patronage of Maharana Kumbha, illustrated texts 'Rasikashtak' by Pandit Bhishmchand and 'Gita Govind Akhyika' by Pandit Ramish in Gogunda were written. In this period, the text 'Supaas Nah Chariyan' was illustrated. Detailed information related to painting is also received from 'Rajavallabh Mandan' in which instructions were given to paint beautiful paintings in palaces and temples. In the era of Maharana Kumbha, Delwara was the center of painting. This period was also important for the development of sculptures. Chittorgarh, Kumbhalgarh, Achalgarh, Shree Eklingnathji Temple and Ranakpur were major centers of sculpture in Mewar. An unequaled example from the constructions of Maharana Kumbha is the 'Kirti (Vijay) pillar' located in Chittorgarh also known as 'Devta Murti Kosh.