Vidyadan Trust Introduction
The House of Mewar has throughout history given a special emphasis to education. Maharana Shambhu Singh built the first school for girls in Udaipur in 1866, and during the reign of Maharana Bhupal Singh (1930-1955) more schools, including one specifically for girls, were opened. Hence, continuing this tradition, an important element of the Eternal Mewar charities is its focus on education at both the pedagogic and adult literacy levels. Education is a vital step towards the improvement and understanding of life both for the individual and the community. The Vidyadan Trust, through the MMCF gives support to individuals from primary school through to advanced studies and even to the post-graduate level. This assistance can also extend to studies abroad and to attending international conferences and symposia. Educational institutions funded by the MMCF and its ancillary body, the Vidyadan Trust include the Maharana Mewar Public School situated within the The City Palace and the Maharana Mewar Vidya Mandir near Amba Mataji Temple.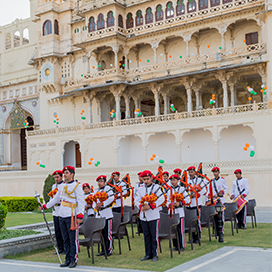 Vidyadan
Welcome to Vidyadan Trust Page.
Content for this page will soon be available online.

Please do visit us again and do give us your feedback on this site.
Registration Number 242

Registration Date 13-04-1977

Registered with Devasthan Department, Government of Rajasthan
Welcome to the Vidyadan Trust Page.

Content for this page will soon be available online.

Please do visit us again and do give us your feedback on this site.
Projects & Activities
Maharana Mewar Public School is an English medium co-educational Senior Secondary school affiliated to the Central Board of Secondary Education, New Delhi. It was founded in 1974 by the Vidyadan Trust by Late His Highness Maharana Bhagwat Singh Ji Mewar of Udaipur, with the aim of providing high quality education to children irrespective of class or creed, ensuring their well-integrated development- physical, intellectual, moral and social and to increase their perfectability to maximum.

It is said that a high rate of literacy is the ultimate panacea, eventually checking population and embellishing other social indices. Thus the school aims at providing a congenial environment to give credence to the students' personality and bring forth their obscure talent to the fore-front, thereby, providing a platform where the students are charting their careers in the field of engineering, medicine, art and management to name a few.

Nestled in the core of the ancient and historic city of Udaipur, lapped by the gentle waters of its sparkling lakes, the school is situated on the breath taking ramparts of the City Palace, the abode of the revered lineage of the rulers of Mewar.
Maharana Mewar Vidya Mandir is the feeder school of Maharana Mewar Public School. It is an English medium, co – educational CBSE school, which provides quality education to students of classes Nursery to V. Housed in beautiful environment that is safe & caring and reflect the philosophy of learning through life. Today it provides education to 1477 students from across the section of the society. The School faculty comprises of trained and highly qualified teachers, who have extensive teaching experience in their respective fields. The school prides itself on its high standard of discipline and code of conduct. The school also conducts parent teacher's meeting through which the parents meet the teachers concerned to discuss the academic progress and other areas of personality development. Because of these qualities, the School MMVM is the best.

School Session: April – March of the following year

Classes: Nursery to V

Age: The minimum age for admission as on 1st April:

Nursery - 3 years

K. G. - 4 years

Prep - 5 years

Admission criteria for Nursery to Prep: Activity based

I to V – Oral & written entrance test

Upcoming Activities